There are so many benefits, programs and events that come along with being a member of the Greater Lowell Chamber of Commerce. When our members take advantage of these benefits and programs we are thrilled!
We realize that money doesn't grow on trees and we want to make our benefits equally accessible from a one person entrepreneur working out of her home to a business employing 200 people (because every member matters). This is why everything from the TV and radio to our mixers are included in your membership fee. It's our way of saying, "Thank you for choosing us!" Here are some of our benefits that won't cost you a dime:
Chamber Chat Radio: Every Thursday from 10am-11am, tune into 980 WCAP (980 AM or streaming live at www.980wcap.com) and listen to GLCC President, Danielle McFadden, interview three GLCC members. Here's a clip from a past episode. Members can come on 1 time for free each year (twice for our nonprofit members).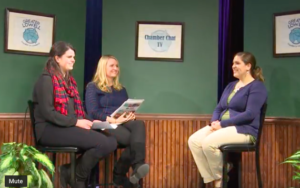 Chamber Chat TV: Be a guest on our monthly cable access TV show, Chamber Chat TV. Every month GLCC President Danielle McFadden, along with Director of Member and Community Relations Emma Brooks, interview four GLCC members at Lowell Telecommunications (LTC). The show is aired throughout the month on various cable access channels throughout Greater Lowell. Guests are also provided with the YouTube link to the episode. Here's a past episode.*
Networking: Come to our monthly networking events – we have at least two a month (you'll always leave with a full stomach and a stack of business cards!). After every mixer our members will receive an excel spreadsheet with the contact information of everyone in attendance. Click here for information about scheduling a mixer.
Education: Participate in seminars, presentations and roundtable events (educate yourself on topics such as healthcare and LinkedIn, while connecting with municipal and state leaders).
Social Media: Market your business on our Facebook, Twitter, LinkedIn and YouTube profiles.
Member Blog: Gain great exposure and establish yourself as an expert in your field by blogging on the homepage of our website. Click here to get started!
Directory: Your business is listed in our directory (online and print). Our printed directory is published and distributed by the Lowell Sun once a year to over 70,000 businesses and residents in the Greater Lowell area. The Lowell Sun also hosts the directory on their website for the year.
Grand Opening/Ribbon Cutting: Give us a call so we can promote your event and join you for a memorable ribbon cutting. Click here for information about scheduling a ribbon cutting.
Certificates of Origin: Available upon request. $50 value per certificate
Referrals: We are contacted daily via email, telephone and in person for referrals and we only refer Chamber members.
In addition to our many included benefits, we also have many paid benefits. Some of these benefits include:
Marketing Opportunities: We've created several marketing packages that offer our members tremendous exposure. Cost: Varied
Email Blasts: Our monthly email broadcasts are sent out on the 15th of every month. The email is also cross promoted on Twitter. (Nonprofits can send out two emails a year for free!) Cost: $75
Member List: Upon request, we can create an excel spreadsheet with a list of our members (business name, primary contact, address and phone number – sorry, we do not give away email addresses). Cost: $75 (you must be a member to get the member list)
Annual Business Expo & Showcase: Promote your products or services at our Business Expo held each September. Cost: Varies according to booth size
Sponsorship Opportunities: Maximize your exposure in the community by sponsoring Chamber events of your choice! Cost: Varies according to event and sponsorship level
We also host dozens of events and programs on a monthly basis, most of them are free to attend. Here's a description of what we offer:
Morning Mixer: Start your morning off by meeting new business connections – before you even finish your first cup of coffee! Enjoy a light breakfast and leave with business cards in hand. After the mixer you'll receive an email with the names and contact information of all the attendees.*
Networking at Noon: The perfect opportunity to get out of the office, grab a quick bite and network with other GLCC current and potential members. We like to say that you'll leave with a pocket full of business cards and a full stomach. After the mixer you'll receive an email with the names and contact information of all the attendees – just in case you missed someone.*
Networking After Hours: Unwind and network at the same time. This is a chance to make business connections while enjoying some delicious food and often times a cocktail too. After the mixer you'll receive an email with the names and contact information of all the attendees.*
Power Networking: This differs from our other networking events because it allows you to talk about your business in front of a captive audience. After enjoying a complimentary lunch, each attendee will have the opportunity to stand up and talk about their business for three minutes. Power Networking is limited to the first 20 people that sign up. Practice your elevator speech and ensure that every person in the room knows exactly who you are and what you do.*
Mega Mixers: Mega Mixers were established to partner with other local business organizations to allow GLCC members the opportunity to expand their network. A few organizations we're partnered with include the Nashoba Valley Chamber of Commerce, Northeast Association of Realtors, Billerica Community Alliance and the Chelmsford Business Association.
Mardi Gras Madness: Join us for a Fat Tuesday celebration that includes Jester Cups and King Cupcakes! This is a member favorite.*
Legislative Breakfast: Connect with state legislators that cover your district. Stay informed about the issues that affect your business and community.
Municipal Breakfast: Listen to municipal leaders from Billerica, Chelmsford, Dracut, Lowell, Tewksbury, Tyngsboro and Westford. Let your voice, opinions and concerns be heard.
Business Expo & Showcase: Exhibit with over 100 other local businesses, with new additions and twists added every year! This is the GLCC's premier event and is always a crowd pleaser with hundreds of attendees! Our Business Expo is scheduled on October 17, 2017 at the Radisson Hotel & Suites in Chelmsford.
W.I.S.E. (Women Inspiring Success and Empowerment) Annual Breakfast: Every year the women of W.I.S.E. host an annual meeting filled with inspiration for all women in business. For the past several years we've hosted a panel of women presenting topics like Work-Life Balance, Women in Philanthropy and Women CEO's. We've also hosted past speakers including Rosemary Verri, Attorney General Martha Coakley, Attorney Wendy Murphy and Hank Phillippi Ryan. Money raised at this event helps support our W.I.S.E. Scholarship given to a Greater Lowell woman who is going back to school/training to better her life and in many cases her family's as well.
W.I.S.E. Quarterly Meetings:  In addition to the W.I.S.E. Annual Meeting, the women of W.I.S.E. host quarterly meetings that are free for all women in business and touch upon subjects that are unique for women. Past topics include nutrition, stress management and balancing work and life.*
Annual Membership Meeting: The meeting serves as a recap of the year and a forecast into the new year. Our outgoing board Chairman is honored and our new Chair and Vice Chair are welcomed. The Full and Executive Board are also acknowledged.
New Member Coffee: This is an outreach effort to welcome and provide a brief orientation for new and renewing members. Current members are also invited to attend and introduce themselves to new members.* Sponsored by ABC Payroll 
Scholarships
Community Service Scholarship:  This scholarship is given to Greater Lowell high school seniors and is based entirely on community service. Grades and financial need are not a factor when granting this award.
W.I.S.E. Scholarship: This scholarship is given to a Greater Lowell woman who is going back to school/training to better her life and in many cases her family's as well.
Awards
Nancy Crocker Outstanding Volunteer Award: For the past decade, we've been fortunate to have Nancy Crocker volunteer at the GLCC. Nancy's dedication and enthusiasm for the Chamber is truly an inspiration to our office and our members. In 2013, we introduced the Nancy Crocker Outstanding Volunteer Award given each year to a member who exemplifies the same qualities as Nancy – enthusiasm, dedication and many hours volunteering to make the Chamber a great place for our members and the community.
Steve Jones Community Champion Awards: In celebration of our 20th Anniversary in 2015, we created an annual Community Champion Award. The GLCC reached out to the City Manager of Lowell and the Town Managers of Billerica, Chelmsford, Dracut, Lowell, Tewksbury, Tyngsboro and Westford and asked them to nominate individuals or businesses that they feel are a Community Champion in their City/Town. Nominations are up to their discretion and are based on community service, economic development, etc.
YouTube Video Awards: In 2011, we introduced the YouTube Video Awards at our Annual Meeting. GLCC members are invited to submit a YouTube Video that is broadcast across our networks for voting. The top three videos are played at the meeting and awarded 'Oscars'. Here's a link to the 2016 videos!