The Chamber EDGE
The Chamber EDGE: Educate, Discuss, Grow, Engage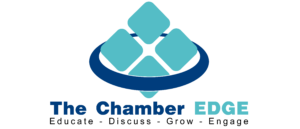 The Chamber EDGE is a self-directed group with a focus on education, networking and relationship building. The group is comprised of both small business owners and other chamber members who are experts in their field and have a willingness to educate, discuss, grow and engage with their peers.
How we operate:
EDGE meets on the second Tuesday of the month. Since the beginning of the pandemic, we meet via Zoom from 9-10 am.
Each meeting has a specific discussion topic chosen beforehand by group members. In the four years we have been meeting, we have discussed 40 different topics and typically draw a group of about 15 people who are interested in the defined discussion topic.
After identifying a discussion topic we seek a subject matter expert to lead a group discussion. They specifically do NOT try to sell services, products, etc. That discussion leader usually presents basic information on the topic but the bulk of our meetings consist of discussion among group members about common experiences, things they've tried that work, or haven't, etc.
The value to you:
Group members leave our meetings more knowledgeable about a topic that they were at the beginning. In addition, you will be meeting with and getting to know other people who are making improvements in their businesses and are willing to exchange information. Some productive working relationships have been created in the four years we've been operating.
In addition to planned discussions, Edge prides itself on being a space where you can discuss challenges specific to your business, and gain fresh perspectives from experienced members on how to tackle and overcome them.
Examples of past EDGE topics include:
Customers/Clients


Customer Loyalty
Changes in Lead General Practices
Building Loyalty and Retaining Customers

Finances

How to Make Your Business Finances Work for You
Delving into the Payments Landscape
Changes in the Tax Structure this Year and it's Affect on Small Businesses

Human Resources

Payroll Do's and Don'ts
Can You Afford to Hire or Can You Afford NOT to Hire?
Sexual Harassment Training
Employee Handbook for Small Businesses
Employees Presenting Your Core Values

Information Technology (IT)

Moving Your Business to the Cloud
Information Security for Growing Businesses
Digital Threats to Small Businesses
Cost-Effective Strategies for Protection

Law

Massachusetts Sick Time Law
Small Business Legal Organization Options

Marketing

Social Media Advertising – Finding the Pots of Gold and Avoiding the Landmines
Developing a Marketing Strategy
Branding
Marketing with Video
Tuning Your Website

Strategy

Small Business Retirement Strategies
Biggest Fears of Business Owners
Maintaining a Work-Life Balance
The Five Stages of Small Business Growth
The Secret Ingredient to Small Business Growth: A Unique Value Proposition
What's Working, What's Now
A Year in Review for Our Small Businesses
Your Value Proposition
Effective Networking
Mindset Strategies
The 8 Factors that Determine the Value of Your Business
Sharing Our Successes
Contingency Planning for a Downturn
The Chamber Edge is sponsored by AdviCoach Max Ward and Madore Photography.