The Greater Lowell Chamber is proud to partner with the Nonprofit Alliance of Greater Lowell, Greater Lowell Community Foundation, Middlesex 3 Coalition, Greater Lowell Development Group and the Lowell Plan on a community calendar for all organizations and businesses throughout the area to add their events!
Calendar
Multi-Day Events
Add your event(s)
Help
Add your event(s)
There are two methods available for you to create events for the Greater Lowell Chamber Community calendar.  Both options utilize the MegaCalendar plugin, built by Greater Lowell area developers we know well!
Register for LowellCalendar.com
Please register here. After you register, your account will be approved by GLCC staff.
Once approved,  you will be able to log in and submit your events.
Registered users can submit an event here.
Add Events ↗
Use your own WordPress website

Whether you choose to use the calendar on your own website's front-end is up to you, but by adding the MegaCalendar plugin in your WordPress admin area, you can create events and send them to the Community Calendar from there.
Install the MegaCalendar Plugin to your own WordPress back-end – (now live on official WordPress Plugins repository)
On the MegaCalendar Settings > General screen, add greaterlowellchamber to the saved calendars field and click save
Check off "Send to Greater Lowell Chamber" when you create any event from your wp-admin > MegaCalendar "Add/Manage Events" screen.

The first time you submit events to GLCC, Chamber staff will see a notification that they need to be approved, but if you are in good standing with the chamber, they will be able to consider your organization for "auto-approvals" going forward.
Multi-Day Events
It is requested if you have a reminder, or other type of event that covers a wide range of days, that you use the Multi-Day Events section, instead of the calendar itself.  From LowellCalendar.com you can create these events here: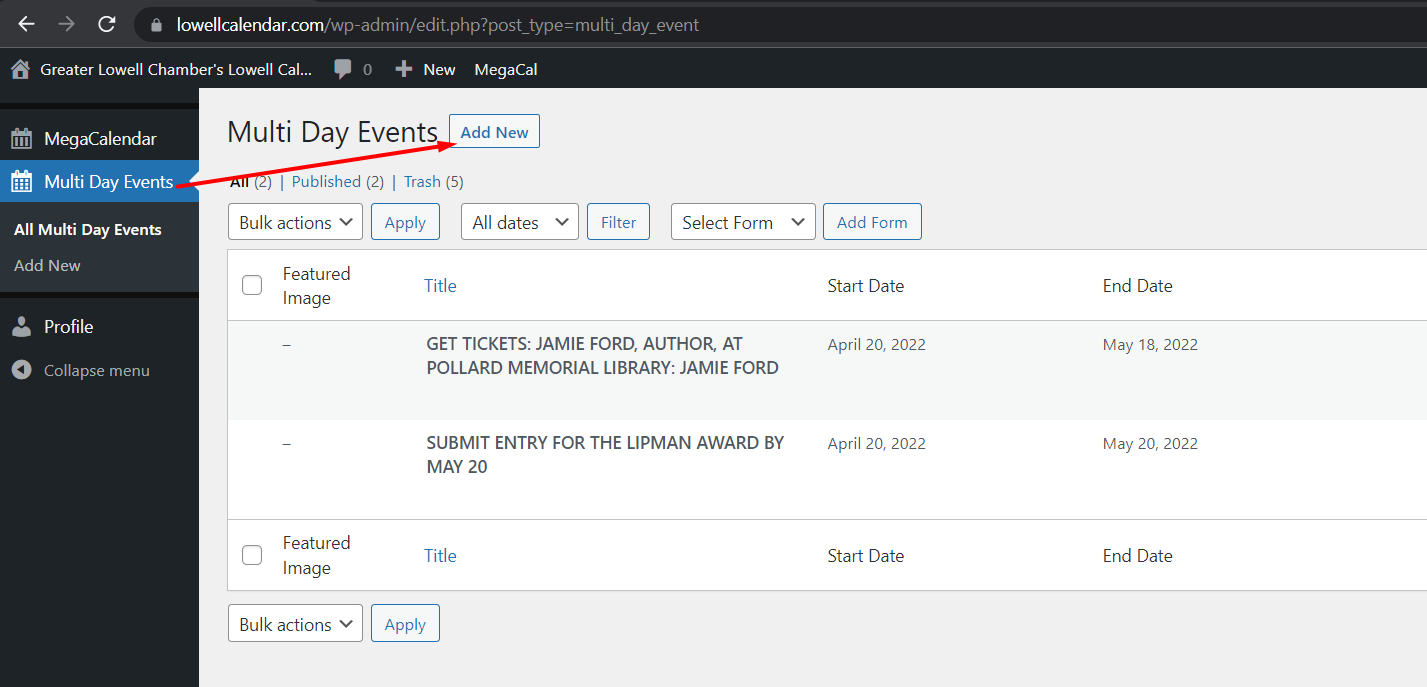 These events will appear here: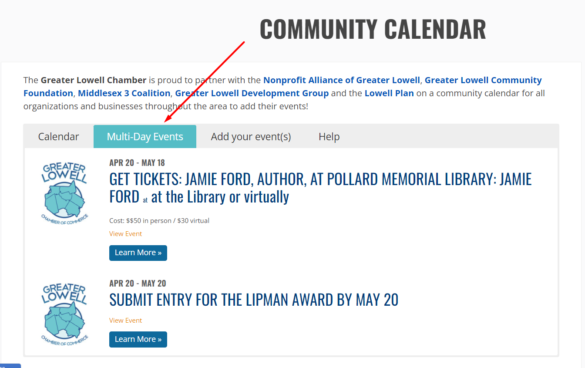 Help and FAQs
Adding events from LowellCalendar.com
LowellCalendar.com is a shortcut to the Greater Lowell Chamber Community Calendar that has been created as part of the experience for the new calendar. It has it's own back-end in order to give Chamber Members access to the Creating Events interface without sending them to the back-end of the actual chamber website.
This video shows everything from the registration process to creating events so you can contribute to the new GLCC Community Calendar.
Event not appearing?
Please note if you do not see your event right away, the system refreshes the cache once an hour so it may appear after a short time. If it is urgent, a chamber administrator can refresh the cache manually to retrieve the event.
If you are sending from your own website, ensure the checkbox is checked for Send events to greaterlowellchamber

WordPress Plugin
The MegaCalendar WordPress plugin that allows sending events directly to greaterlowellcc.org is now available anyone with a WordPress website who would like to send events directly to the Chamber from the back-end of their own website.
You can install it in your WordPress website by typing MegaCalendar on your Add Plugins screen inside your WordPress dashboard wp-admin area, and then simply add greaterlowellchamber as a Saved Calendar on the MegaCalendar settings screen in the back-end as shown here: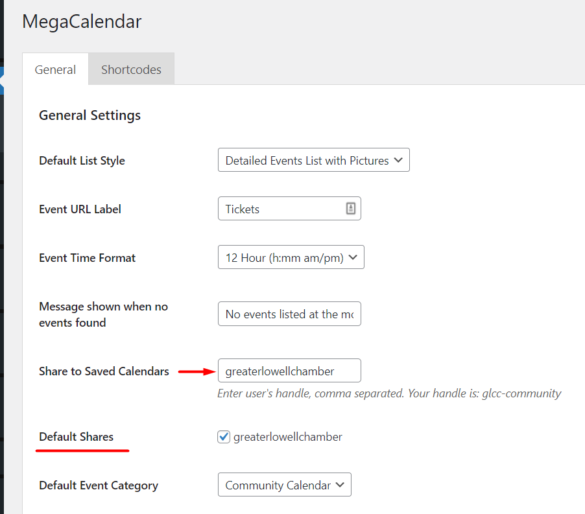 Still need assistance? Email Danielle McFadden at dmcfadden@greaterlowellchamber.org.
* Please note this calendar is for virtual and in-person events (not appeals) that are open to the public.