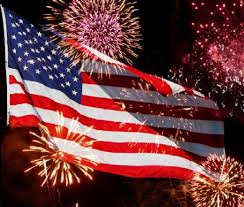 The Greater Lowell Chamber of Commerce wishes you a Happy & Healthy 4th of July!
Celebrate!
July 3 –  Chelmsford Lions Club will hold a country fair from 5-11 p.m.; The Dancing Center Unlimited will perform at 5:30 p.m.; Chelmsford Art Society will hold an art festival from 6-9 p.m.; The Chelmsford Rotary Club will offer Kiddies Train Rides from 6-8 p.m.; Chelmsford Suburbanette's twirling group will perform at 6:30 p.m.; Chelmsford Community Band will hold a band concert from 7-9 p.m.; AttiK will perform from 9-10 p.m.

July 3rd – Lisa Love will perform at the gazebo at the Lakeview Avenue Jr. High School from 7 to 9 p.m in Dracut, followed by fireworks; grilled food and ice cream will be available for purchase; rain date is Friday.
July 4th – Annual 4th of July Parade in Chelmford
July 4 – Continental breakfast sponsored by the Tewksbury Rotary Club from 8:30 to 10 a.m.; track and field games for all ages from 9 to 10 a.m.; the decorated doll-carriage contest for ages 3 to 6, the bicycle decoration contest for ages 4 to 8, the Little Mr. and Miss Tewksbury contest for ages 2 to 4, and the basketball free throw and bologna toss contests will be held from 11 a.m. to noon; Hot dogs and ice cream will be served from noon to 12:30 p.m.; the pie and watermelon eating contest will be held from noon to 1 p.m. All events at the Livingston Street Recreation Area.
July 4th –  Family-friendly events on the Billerica Town Common from 10 a.m. to 2 p.m. featuring games, hot dogs for purchase, and music performances by BeetleTracks. Admission is free.
July 4th – Free concert at the Sampas Pavilion in Lowell beginning at 7pm featuring Sturdy Moss. This is sponsored by Heritage Farm Ice Cream & Restaurant.
July 5th – Independence Day Celebration in Lowell 
For more information about 4th of July events please visit the Lowell Sun online.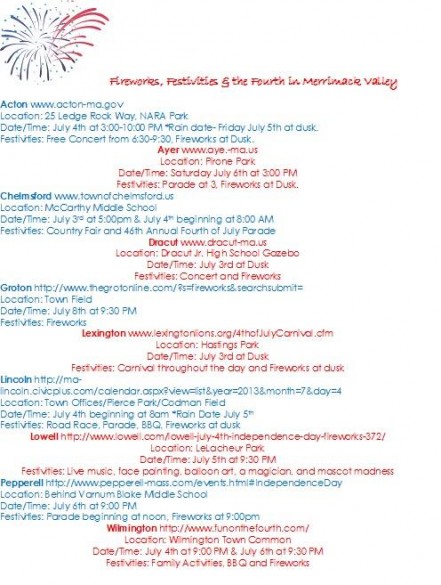 Comments