Website Conversion, Tip #1 of #20, Understand the Four Elements of Any Action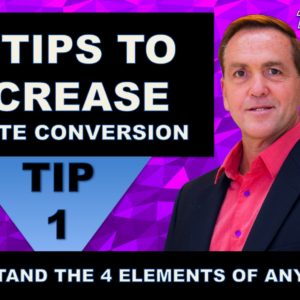 Website Conversion, Tip #1 Understand the Four Elements of Any Action, Ronald Couming discussing the value of, and need to, Understand the Four Elements of Any Action, as tip #1 of this 20 part series, 20 Tips To Increase Your Website's Conversion Rate
Tip # 1. Understand the Four Elements of Any Action
The four elements of any action are opportunity, ability, incentive, and willpower. These elements apply to actions in everyday life (such as smoking a cigarette, buying a soda, turning left at an intersection, and anything else you can think of) as well as actions taken online (such as filling out a form, clicking a "like" button, sharing an article with a friend, and any other action). I covered each of the elements and how they influence decisions in detail in the first article I ever wrote for Forbes, over three years ago, and the words still ring as true and relevant today as they did then. The bottom line is, before you can hope to increase the rate at which people take an action on your website, you must understand what causes an action to occur. But I recommend you start by familiarizing yourself with the four elements of an action, then continuing with this guide.
Please click the links below to access all 20 videos in this series, and contact me if you need any assistance
90% of a business's success is marketing. Having an effective and efficient online presence is vital to a businesses success.
We at RCS Technology Solutions, LLC provides business owners and entrepreneurs the ability to attract new clients with various Lead Generation services, Convert those leads into clients, and retain those clients, while also converting those clients in raving fans.
Contact Us Info@RCSTechnologySolutions.com 978 606 5432
Subscribe to never miss a video
Ronald E Couming, is an Internet Marketing Expert, and the Founder and CEO of RCS Technology Solutions He is an internationally recognized speaker, accomplished author, Radio Show host, and successful entrepreneur. Ronald's passion is helping business owners to " Have even greater success, " by creating scalable and sustainable business models, beyond anything they could ever imagine.
He is, and has been, an "Ask the Expert" (for Internet Marketing) at America's largest trade show for entrepreneurs and small businesses, reaching 14 major US cities and nearly 100,000's entrepreneurs.
Leveraging his diverse background in Internet marketing, technology, self-development, Leadership, team building and entrepreneurship, he has created an innovative approach to helping businesses, and business owners, achieve extraordinary, sustainable success.
Ronald has taught and helped businesses all across the country on how to achieve even greater success with proven Internet marketing strategies, coupled with analytic metrics.
Check our websites and connect with us on Social Media
Facebook RCS Technology Solutions
Website conversion, how to increase website conversions, web conversion, website conversion Boston, website conversion Billerica how to increase website conversions
Tip # 1. Understand the Four Elements of Any Action
Tip # 2. Use More Calls-To-Action
Tip # 3. Segment Your Landing Pages
Tip # 4. Pre-Sell Your Prospects with Compelling Content
Tip # 5. Optimize for Mobile
Tip # 6. Make It Easy to Convert
Tip # 7. Eliminate Distractions
Tip # 8. Reduce the Options You Offer
Tip # 9. Limit the Information You Request
Tip # 10. Use Both Required and Optional Fields
Tip # 11. Use a Strong Headline
Tip # 12. Make Your Content Match Users' Expectations
Tip # 13. Be Straightforward in Your Descriptions
Tip # 14. Make Your Unique Value Proposition (UVP) Clear
Tip # 15. Use More Action-Based Language
Tip # 16. Get Rid of Jargon and Buzzwords
Tip # 17. Experiment with Your Content Length
Tip # 18. Keep Your Language Simplistic and Easy to Follow
Tip # 19. Focus on the Benefits
Tip # 20. Get Your Customers Excited
Thank you Jayson DeMers for the article that was used, in part, as a reference.
Comments