Volunteer Coordinator/Administrative Assistant: Habitat for Humanity of Greater Lowell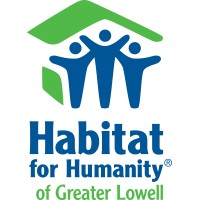 From $25 an hour
– Part-time
Habitat for Humanity of Greater Lowell is an independent affiliate of Habitat for Humanity International dedicated to eliminating substandard housing worldwide and to making adequate, affordable shelter a matter of conscience and action.​ Habitat is founded on the conviction that every man, woman and child should have a simple, decent, affordable place to live in dignity and safety.​
The Volunteer Coordinator/Administrator helps recruit, maintain and coordinate volunteers for Habitat builds, Critical Home Repair Projects and Events. Duties can include conducting community outreach, volunteer coordination, applicant orientations, assisting families in application completion and facilitating homeowner education. This member moves us substantially forward in accomplishing our goals of providing more safe, affordable housing in our community. In addition, the position requires providing administrative support to the office which may entail ordering supplies, data entry and general office support. The position is for 25 hours a week, roughly 5 hours a day with some room for variation.
Responsibilities
Recruit and manage volunteers used on Builds, Critical Home Repairs and Events as needed.
Schedule and coordinate volunteer days using our scheduling software.
Respond to calls and emails inquiring about programs, housing and volunteer opportunities in a timely manner.
Support applicant orientations and assist families in the completion of the housing application.
Tasks may include assisting with financial eligibility calculations and summaries for each applicant.
Track sweat-equity hours and send families monthly updates.
Provide general office support including some data entry.
Assist with collecting necessary family information to prepare for closings.
Work with homeowner families to plan their home dedication when necessary.
Experience, knowledge and skills
Required
Valid driver's license and ability to meet our insurance requirements.
Experience with Microsoft Office Suite, especially Word and Excel.
Comfortable with technology.
Detail oriented and highly organized.
Preferred
Knowledge of, and willingness to promote, the mission and activities of Habitat for Humanity International.
Patient, compassionate and supportive approach to client services
Ability to work with a diverse group of people.
Strong written and verbal communication skills.
Strong research skills.
Experience working with volunteers.
Experience working as a member of a larger team.
Some travel may be required for this position. Public transportation options are limited in our community so access to a personal vehicle is required/recommended to get to and from service, as well as any required meetings. Approved service-related mileage, beyond commuting to and from service, will be reimbursed per the affiliate's policy.
Habitat provides Equal Employment Opportunities (EEO) to all employees and applicants for employment without regard to race, color, religion, sex, national origin, age, disability or genetics. In addition to federal law requirements, Habitat complies with applicable state and local laws governing nondiscrimination in employment. This policy applies to all terms and conditions of employment, including, hiring, placement, promotion, termination, lay off, leaves of absence, compensation and training.
Job Type: Part-time
Pay: From $25.00 per hour
Benefits:
Flexible schedule
Health insurance
Paid time off
Schedule:
Ability to commute/relocate:
Westford, MA 01886: Reliably commute or planning to relocate before starting work (Required)
Education:
Experience:
Volunteer Coordination: 3 years (Required)
License/Certification:
Driver's License (Required)
Work Location: In person
Apply here: https://www.indeed.com/viewjob?jk=675477a76a4e9da1&tk=1h3hl1p3b2gn8001&from=hp
Comments