Thanksgiving Project November 14th-18th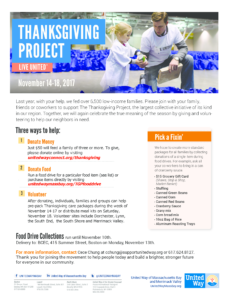 As we enter fall, United Way is kicking into full swing with our Thanksgiving Project preparations. This year's event will provide Thanksgiving meals to over 6,500 local families on November 18, 2017. With the support of our local community, United Way aims to donate 650,000 pounds of food to 25,000 people who need it most from 10 of our communities.
3 Ways to Help:
Donate Money
Just $50 will feed a family of three or more. To give, please donate online by visiting
unitedwayconnect.org/thanksgiving
Donate Food
Run a food drive for a particular food item (see list) or purchase items directly by visiting
unitedwaymassbay.org/TGPfooddrive
Volunteer
After donating, individuals, families and groups can help pre-pack Thanksgiving care packages during the week of November 14-17 or distribute meal kits on Saturday, November 18. Volunteer sites include Dorchester, Lynn, the South End, the South Shore and Merrimack Valley.
We hope to create more standard packages for all families by collecting donations of a single item during food drives. For example, ask all your co-workers to bring in a can of cranberry sauce
Pick a Fixin'
• $15 Grocery Gift Card
(Shaws, Stop & Shop,
Market Basket)
• Stuffing
• Canned Green Beans
• Canned Corn
• Canned Red Beans
• Cranberry Sauce
• Gravy mix
• Corn bread mix
• 16oz Bag of Rice
• Aluminum Roasting Trays
Food Drive Collections run until November 10th.
Delivery to: BCEC, 415 Summer Street, Boston on Monday, November 13th.
For more information, contact Cece Chung at cchung@supportunitedway.org or 617.624.8127.
Thank you for joining the movement to help people today and build a brighter, stronger future
for everyone in our community.
Comments