Open House on Nov. 6th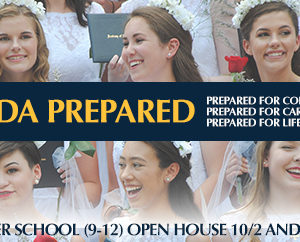 Sunday, November 6th
11 a.m. – 1 p.m.
Discover what makes the Academy different at one of our Upper School Open Houses. You'll be able to customize your visit to suit your preferences: explore on your own or let one of our students be your personal guide.
During your visit you'll have the opportunity to:
-Visit with faculty and staff
-Tour our facilities and campus
-Get to know our students
-Experience a showcase of student organizations and athletics
-Learn about our mission and ministry
-Chat with parents and alumnae
-Find out why an all-girls high school experience is for you!
-NEW: Participate in the SnapChat Scavenger Hunt*
*The Academy is snap happy! Prospects: take home an Academy souvenir when you complete our SnapChat geo filter scavenger hunt at Open House on Oct. 2nd and Nov. 6th. Find all 3 secret snapchat stations and snapchat a picture of yourself using our filter and then add it to your story. Show us your story at the end to receive a special gift!
To RSVP visit: http://www.ndatyngsboro.org/admissions/open-house-registration
Comments