MOOYAH Burgers partners with MA Children's Dyslexia Centers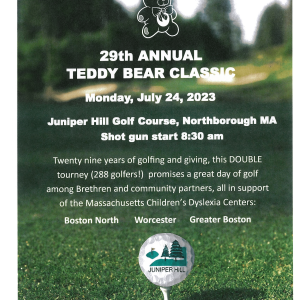 MOOYAH Burgers, Fries and Shakes located at 199 Boston Road, Billerica is a proud tee and green sponsor for the 29th Teddy Bear Classic golf event on July 24. The event is sponsored by the MA Children's Dyslexia Centers and will be held at Juniper Hills Golf Course in Northborough, MA.
School children with dyslexia face daunting learning obstacles on a daily basis. These obstacles can often result in frustration, demoralization and failure for young students as they struggle to acquire skills required to succeed in our society today – if they don't receive the help they need.
​
For over two decades, the local Freemasons of the Scottish Rite Northern Masonic Jurisdiction, have been national leaders in the effort to help children and their families overcome the challenges of dyslexia. The J. Philip Berquist Children's Dyslexia Center of Greater Boston was the first in what has grown to be an impressive 501(c)(3) charitable organization with more than 50 Dyslexia Centers in 13 states.
​
The Children's Dyslexia Centers tackle the challenge of dyslexia head-on, providing free tutoring for children with dyslexia and by training a growing cadre of nationally certified, highly skilled and dedicated tutors to help children reach their full potential.
Additional information on the event can be found at https://www.teddybearclassic.golf.
Comments