IT Secure Joins Technology Assurance Group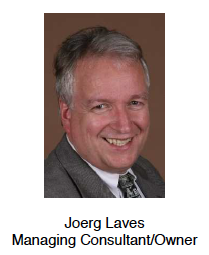 MANCHESTER, NH — March 14, 2019 — IT Secure, a leading managed technology services provider (MTSP), announced today that the company has joined TAG, an international organization of independently-owned MTSPs who collectively represent nearly $350M in products and services. Access to TAG's best business practices and innovative programs will enable ITSecure to enhance their customers' profitability, productivity, and overall customer satisfaction.
"The TAG organization is comprised of the top technology companies in the industry and we're excited to add IT Secure to our select group," said Brian Suerth, president of Technology Assurance Group.
"IT Secure met all of the requirements for Membership including community reputation and longevity, stability, technical expertise, financial strength and customer relations. We're looking forward to building a strong partnership by helping them accomplish all of their business objectives."
By joining TAG, IT Secure will have access to proprietary programs that will greatly benefit their customers, employees, and business partners. An example of these programs include the Current Technology Assurance Plan. C-TAP is a tremendously popular way of acquiring new technology because it eliminates technology obsolescence while providing a true, predictable cost of ownership for the customer.
Another unique program is Customer Advocacy, which is designed to introduce customers to the latest developments in technology, find creative ways to reduce costs, and obtain a better understanding of how to efficiently utilize technology to grow their organizations. Furthermore, IT Secure has immediate access to over 30 strategic partners that offer IT Secure's customers a wide range of technology applications including IT, cloud-based technologies, cybersecurity, telecommunications, AV, video surveillance, and access control.
"We're thrilled about this new relationship with TAG and the impact it is going to have on our business as well as our customers,"
said Joerg Laves, Managing Consultant and Owner of IT Secure. "TAG's ability to lead our industry into the future is a tremendous benefit and their best business practices will assist us in taking our organization to the next level."
ABOUT IT SECURE
IT Secure is a managed technology service provider ( MTSP) that integrates all technology solutions including help desk services, business continuity and disaster recovery, systems management, SD-WAN, internet connectivity, cloud based technology, cyber-security and telecommunications. Founded in 2007, IT Secure has established itself through independent industry benchmarking as one of the top IT Services organizations globally (MSP501). For more information on
IT Secure, please call 603-668-7733 or visit www.itsecureservices.com.
ABOUT TECHNOLOGY ASSURANCE GROUP (TAG)
Technology Assurance Group, LLC (TAG) is an international organization of leading independently owned business communications companies. TAG provides its members with the competitive advantages necessary to achieve a dominant position in their marketplace. Members benefit from programs including strategic partnerships with communication solution providers, best business and management practices, and advanced sales training programs. TAG's mission is to increase its Members' sales and profits through education and to ease their introduction of new technology to the marketplace by leveraging their combined intellect and purchasing power.
For more information on TAG, please call 858-946-2108 or visit www.tagnational.com.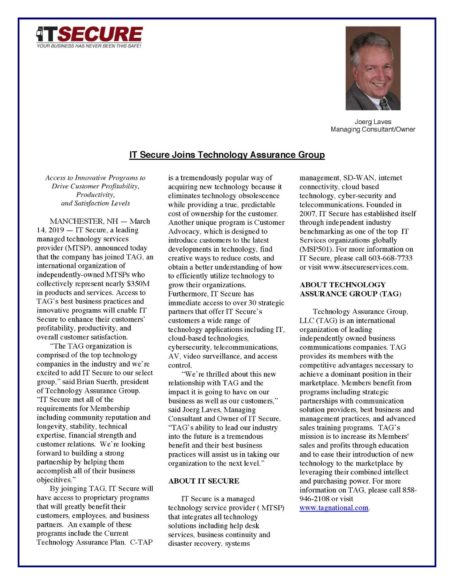 Comments