Holiday Parties Made Easy With Mr. Mac's!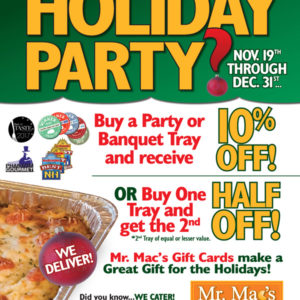 A great tip for making the holiday season full and tasty is taking advantage of the convenience…and taste…of a delicious tray of award-winning Mr. Mac's Macaroni and Cheese!
Did you know that you can have this treat by the tray? When you need to feed a hungry crowd, this is a great time saver.
You can choose to order your tray Baked to Order or as a Take and Bake Tray…one that you can pop in the oven when you're ready.
Now thru December 31st you can purchase a party or banquet tray and receive 10% off.
Or, Buy 1 tray and get the 2nd tray at 1/2 off!
Just a little holiday cheer from your friends at Mr. Mac's! And yes, we have gluten-free options.
You can order online at mr-macs'com.
And don't forget, we deliver!
Comments