Habitat for Humanity of Greater Lowell Welcomes 2 Lowellians to its Staff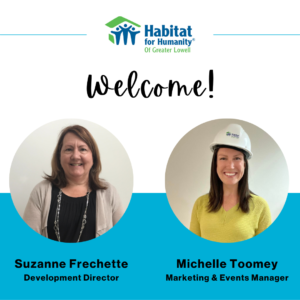 Habitat for Humanity of Greater Lowell is pleased to announce the addition of Suzanne Frechette and Michelle Toomey to its staff.
Suzanne was recently appointed as the nonprofit's Development Director after serving for 5 years as its Grants Manager. She was also Habitat for Humanity of Greater Lowell's first-ever Executive Director, serving from 2005 – 2007. She is currently an attorney specializing in Real Estate. Suzanne grew up in Lowell's Acre neighborhood and is actively involved in the local community as a Trustee of the Pollard Memorial Library and Lowell Catholic, and President of the Merrimack Valley Rotary Club.
Michelle joins Habitat as the new Marketing and Events Manager. She has a decade of corporate and non-profit marketing experience, most recently serving as the Marketing and Media Relations Coordinator at the Front Door Agency in Nashua. She has a Bachelor's degree in Marketing Communications from Ithaca College and earned her MBA at UMass Lowell. She is a Lowell native and, in her spare time, coaches for Westford Academy's rowing team.
"Habitat for Humanity of Greater Lowell strengthens our community by giving a hand-up to local families," said Kevin Fusco, Executive Director. "We are thrilled to welcome Suzanne and Michelle on board and admire their passion to serve the communities they love."
For more information about Habitat for Humanity of Greater Lowell, visit www.lowellhabitat.org or call 978-692-0927.
Comments