Far Too Many Coaches Rely On Winging It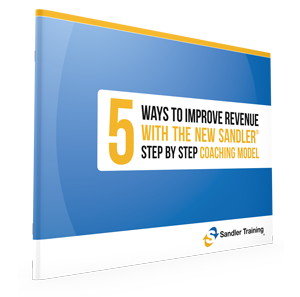 In order to be effective and proficient in coaching, it takes planning, commitment, discipline, and patience. The starting point for coaching is a well thought out plan. The Sandler Step by Step Coaching Model is a road map to success.
The first step is to develop the top 10 sales behaviors for your salespeople. To do this, you should build a behavior model incorporating the top ten behaviors necessary to drive a salesperson's success. Behavior is activity, therefore, your first job as a coach is to identify the 10 actions your salespeople should be doing on a weekly basis (i.e. prospecting). It's critical that all of your salespeople are working on and expanding their top ten behaviors necessary for success.
Download the sales manager's guide: 5 Ways to Improve Revenue With The New Sandler Step by Step Coaching Model to discover 4 more ways to improve your team's performance: http://www.tps.sandler.com/resources/downloads/5-ways-improve-revenue-coaching-model
Comments