8 Important Things to Remember Before You Network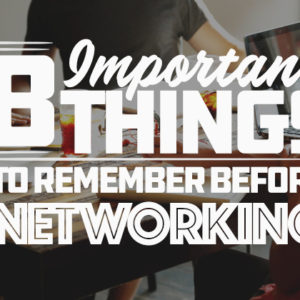 Growing a successful business requires participation or some involvement in networking. Luckily, over the years the networking world has flourished. Whatever your interest is, there is a networking group for you. Amid celebrity appearances, boat cruises, whiskey & wine tastings, and paint nights, strategic networking often gets lost. We cannot forget that networking is just that; work, not net eating, net drinking or even net partying.
Here are 8 ways to make the most of your experience –
Arrive on time
Let's face it; it is so much easier to approach people at the beginning than to try and jump in the middle of someone else's conversation. And more importantly, it also shows respect for the event, the other attendees and the company hosting the event.
Look the part
If you seem like a disheveled mess, that is how you will be treated. Dress appropriately for a business function while representing your brand. Being well-dressed is a form of politeness, and it will give you the opportunity to show how brilliant you are.
Make a great impression
It is crucial to make your first impression a good one. A smile, handshake, and eye contact are all excellent ways to have your presence felt and noticed. Direct eye contact and a solid handshake, along with a friendly smile and good body language, conveys to others that you are confident and comfortable in social settings.
Grab attention while being understood
Be prepared with an interesting and easy to comprehend self-intro. "Hello, I'm Colleen Montgomery; I write code at Blue Bumble Creative." You might think oh wow, that's super cool, but what the hell does "write code" mean to the average person? Next time try, "Hello, I'm Colleen Montgomery; I build websites at Blue Bumble Creative."
Be the sultan of small talk
Once you master the art of small talk and making people feel comfortable, you will be golden. Making small talk is not only essential for networking, but it is also a lifelong skill. The more you practice, the better and more comfortable you will become!
Follow-up
A good rule of thumb is always follow up with an email. If you really want to stand out, you can send a handwritten note. But remember, always make sure it is within 48 hours of meeting someone, and NEVER longer than a week.
Make new connections, but keep the old
One is silver; the other is gold. With sites like Facebook, LinkedIn, and Twitter it is super easy to build your contact base. Think of LinkedIn as your Rolodex for business connections and use it! Make sure you are keeping your information update to date, sharing posts and congratulating others.
Pay it forward
Help others achieve. Introduce them to potential clients, recommend them, offer support, and send business their way. And try to do this without looking for something from them. Be sincere when asking how they are, and listen. This alone will set you apart.
Must haves for attending a networking event:
-Business cards, duh!
-Breath mints or gum
-A solid handshake
-Knowledge of what is going on in the world
-A warm and welcoming demeanor with an upbeat attitude
-One or two funny clean(ish) jokes
-Helpful information
-Willingness to follow-up
-Ability to make eye contact, in a non-creepy way
-Knack for not outstaying your welcome
Once you conquer the art of networking, doors will fly open for you. You will start to experience a happier work life and help others achieve their goals while meeting your own.
What is your #1 Networking Tip?
Comments