5 Steps to Creating a Successful Social Media Strategy for 2017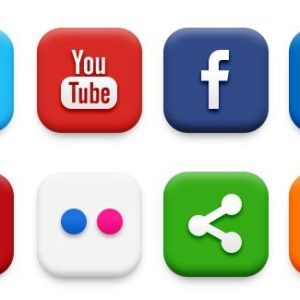 Social media is constantly evolving and can be hard to predict what's coming next. Who would have guessed that Chewbacca Mom would be so popular, Pokemon Go? We can't know what will be popular in the coming years, however we can set ourselves up for success with some best practices and logical anticipation based on user behavior and industry trends.
Having a solid social media strategy will help you navigate towards business goals through the ever changing social landscape. Check out these five steps to creating a successful social media strategy in 2017
social-media-image
1. Clearly Define Your End Goals
Have you ever gotten into a car and started driving somewhere without knowing where you want to go? Probably not. Social media marketing is very similar in that you aren't setting yourself up for success if you just "do" things on Facebook or Twitter.
The very first step to creating a successful social media strategy is understanding what your end goal is. It's important to be realistic and set challenging yet achievable goals.
Here are some examples of goals you might want to consider for your social media strategy:
Increase overall traffic to your website by 50% year over year
Drive 60% more engagement year over year
Influence 30% more conversions year over year
Increase revenue from social media by 20% year over year.
The above goals are completely random, purely intended to get you thinking of the types of things you might like to accomplish with social media marketing in 2017.
With definitive goals in mind, you can then align everything you do to towards achieving them.
2. Identify Your Target Audience
You have your goals clearly defined, now it's time to start thinking about who you'll be trying to activate to achieve these goals.
There are a few different ways to identify your target audience. First, I would recommend taking a look at your current customer base and trying to create demographic personas based on needs, spending and whether you want to keep this current customer base or aim for a different one altogether.
But what if you don't have a large customer base to vet for that ideal audience? No problem – there are tools you can use to see who is naturally gravitating towards your brand via your website and social media channels.
Most social channels offer demographic information, however the below outlines the most helpful process (in my experience) to work out if there's a concentration of your target audience on any respective social channel.
Google Analytics – Google Analytics has some awesome tools to help you understand the demographics, location, interests and even behaviors of your website visitors. Vetting this data for the customers that are converting is a great way to dial in on that desired audience.
Facebook Insights / Audience Insights – Facebook is king of the data kingdom and has a wealth of information on users that are connected to your page, visit your website and even engage with your content. Installing a Facebook pixel or uploading an email list will help you unlock this valuable data.
Twitter Analytics – Want demographic and lifestyle data on the people following your Twitter account? Accessing Twitter Analytics can provide a ton of useful information and also enables you to compare your followers to a custom persona. If you think your target market is active on Twitter, this is the way to find out.
Instagram Analytics – This relatively new set of data will allow you to check out the demographics, content consumption and location of your following.
LinkedIn Analytics – LinkedIn analytics have always been a bit flimsy, but if you're in the B2B space, you need to check out this data to understand what kind of community you are building and if it fits your ideal audience and goals.
Leveraging data to identify your target audience has always been important, however when it comes to creating a successful social media strategy in 2017, it's absolutely a must.
3. Build a Diverse Content Strategy
Would you believe me if I told you that there are more daily active users on Facebook now than people in existence in 1901? The gap between the amount of content created and the amount of content actually consumed on social sites is rapidly widening, and new media is becoming popular, however there are only so many possible ways to read, listen, and watch. This is precisely why a diverse content strategy will set you up for success in 2017.
Read – In 2017, people are going to want to find information in quick, digestible ways – if you have a blog on your website, you're already ahead of the game. If you can create valuable blog content that's promoted properly through your social media channels, you'll definitely begin to attract your ideal customer to your website. After all, you're writing the content and you control the messaging.
Look – 90% of information transmitted to the human brain is visual and our magical minds process visuals 60,000x faster than text. To win attention (and impressions) on social media in 2017 you're going to need to create compelling visuals to tell your story. This doesn't mean you need to be an expert graphic designer (although having a talented professional is encouraged). Sites like Canva can help amateurs create social graphics that are fun, attractive and engaging.
Watch – Video is going to be critical to social media success in 2017. Almost every social media site has upgraded their video capabilities and you should follow suit. Videos don't have to be expensive to produce either. Capturing a fun moment or product video can be done with an iPhone and uploaded directly to your platform of choice. Video content statistically gets more engagement than images. Use video in 2017.
Listen – Podcasts increased in popularity in 2016 and will likely continue to grow. Currently it's estimated that 17% of Americans listen to monthly podcasts. Could there be an opportunity for your brand with podcasts in 2017?
4. Allocate a Dedicated Social Media Advertising Budget
To truly reach a targeted audience and see a business result from social media, it's highly recommended to allocate a dedicated social media advertising budget.
Within the next five years, social media advertising is expected to comprise over 20% of marketing budgets. 2017 is the year you should take social advertising seriously and invest a strategically used budget. When used intelligently, social advertising is the absolute most cost effective way to reach a targeted audience where they are the most engaged.
If you don't have social media ad spend available currently, get it, otherwise you could get left behind in 2017.
5. Think Mobile
Did you know that it's estimated that people check their phones an average of 150x per day? People are so addicted to their mobile phones that a recent survey showed that 68% of people perceive vibrations when their phone isn't actually getting a notification – people are literally imagining their phone vibrating because their brain constantly expects it.
Since we're all addicted to mobile devices, wouldn't it make sense to tailor your social media strategy in 2017 to be mobile-first? 33% of shoppers do a majority of research on a mobile device and 49% say that they would buy more through their mobile device if the process was easier. Since the consumer journey is no longer linear and takes place across different devices, we should all make 2017 the year that we make our content, social advertisements and website mobile friendly. 80% of social media time is now spent on mobile devices, so not optimizing your social media strategy for mobile could be a huge mistake in 2017.
To provide the best possible result oriented solutions available we have created the following websites and divisions to work in unision and under the umbrella of RCS Technology Soltutions, LLC : RCS Online Solutions , RCS Digital Marketing, RCS SEO Solutions , RCS Website Solutions , The Best Website Company , The Best Internet Marketing Company , RCS Managed IT Services, RCS Computer Solutions Besides that we have dedicated services for Boston, Massachusetts as well including The Best Website Company Boston & The Best SEO Company Boston . RCS Technology Solutions, LLC is powered by Digital Marketing and Website Expert Ronald Couming who has been providing expert solutions for more than a decade. Please contact us with any questions or help regarding our services fees at 978-606-5432 or email at info@rcstechnologysolutions.com
September 7, 2016/by Ronald E Couming
Comments