5 SEO Mistakes to avoid in 2016, RCS Technology Solutions,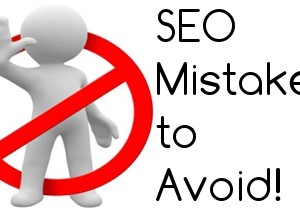 If you avoid the 5 SEO mistakes then 2016 will be your year! If you are planning for exponential business growth in 2016, you're going to have to prepare your website by focusing on SEO. When optimizing your website, be sure to avoid these top 5 common mistakes that are often made with SEO.
1. Expecting Immediate Results
It's important that website owners understand that seeing results when it comes to SEO can take some time. You definitely won't be ranked on the first page of search results overnight. While you won't see immediate results, your page rank and volume of traffic will increase over time.
2. Not Creating Custom Title Tags or Unique Meta Descriptions
If every page on your website contains your website name online followed by a product or index number, you need to fix this as soon as possible. Creating custom title tags and meta descriptions using SEO keywords can gradually increase your page rank.
3. Publishing Inefficient Content
All of the content on your website should not only be unique, it should also serve a purpose. For the best SEO results, you should try to use keywords naturally and as often as possible within the content of your website. The most popular content provides some kind of valuable information for readers including how-to guides, reviews and unique ideas.
4. Not Researching Your Keywords
It is extremely important to research your SEO keywords in order to make sure you are targeting the correct traffic. If you need help determining which keywords are best for your website, it is recommended you use a keyword tool such as Google's Adwords Keyword Tool.
5. Not Using Analytics
Another SEO mistake you might be making is not using analytics to track your results. Regularly reviewing the analytics for your website is necessary so you can know which changes should be made to your SEO marketing in order to increase conversions.
RCS Technology Solutions, Ronald Couming,
Comments