3 Keys to Convert More Sales and Double your Fees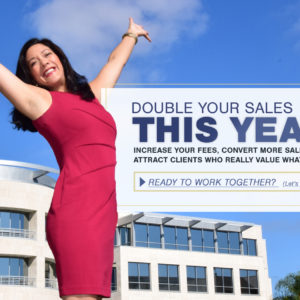 Must Register to Attend
This is an online event
June 28, 2018
Thursday, 2:00 PM – 4:00 PM
Are you losing sleep wishing you could support more clients with your best offer?
Or, maybe you have plenty of clients and you know you could be charging more for the amazing value you provide? If so, you aren't alone!
Often times, when entrepreneurs and business owners want to find more clients or raise fees, they struggle because they know they offer great value, but have a hard time articulating why people should pay for their services and products without feeling pushy.
Join us for our upcoming training where Jennifer will be sharing:
 What it really takes to double your fees without giving away more time or free-bies
 The "I don't have the money" objection – What it really means when someone says this and what to do about it
 The key elements to effortlessly showing your prospect that your solution is the only and obvious one
 How to have 90% of your ideal prospects ask you, "How can I work with you" at just the right moment so you're perfectly poised to make a jaw-dropping offer.
 Discover how to be yourself AND make the sale without being pushy or salesy
The insights she provides will show you how to bring in new clients who really value what you do — Immediately!
Jennifer Diepstraten has 20 years' experience in sales, relationship coaching, and communication studies so she understands what it really takes to inspire people to take decisive action. As a result of her expertise, she's sold over $14 million in products in ten years in corporate sales, working for world-leading multi-million and multi-billion dollar biotech and medical equipment companies.
She left her highly lucrative corporate sales job to start her own business teaching high-end sales and sales training to coaches, consultants, professionals, healers and niche service providers. Her "One Call Blueprint" consultation system enabled her to triple her fees in her own heart-centered entrepreneurial endeavor in less than 6 months, and grow her sales coaching company to multi-six figures in less than 2 years.
The system she's created and teaches her students has enabled her to create a lifestyle business that's allowed her husband to retire from his career in home construction and work full time with Jennifer. Jennifer holds a Biopsychology degree from Vassar College and a Masters'of Science in Traditional Oriental Medicine, and lives in Southern California with her husband and three sons.
FREE GIFT
7 Tips to Generate More Leads From your Website
Join our Private Facebook group
Learn more about, and connect with Ronald Couming, Check our websites and connect with us on Social Media
Facebook RCS Technology Solutions
Comments