The Greater Lowell Chamber of Commerce in partnership with the City of Lowell's Economic Development Office, Lowell TeleMedia Center (LTC), the Lowell Plan, EforAll and the Entrepreneurship Center at CTI is thrilled to launch the Lowell Shopping Network!
2020 has been a trying year for us all but we know that TOGETHER we can make a huge difference in our community by shopping local and that's why we want YOU to join us by being a part of the Lowell Shopping Network (#LowellShoppingNetwork)!
LSN consists of three things:
The Lowell Shopping Network EVENT on November 21st and 22nd (and perhaps more to come!)
The LSN Facebook Group
A Social Media movement
Lowell Shopping Network Event
The weekend of November 21st and 22nd, Lowell TeleMedia Center (LTC) will be airing two-minute videos created by Lowell businesses (and edited by LTC) on channels 8 and 95 and on Facebook.
What businesses need to know:
This is open to ALL businesses in Lowell regardless of industry or size (granted, you want to have a product you can sell to consumers).
If you want to participate please fill out this form and create a 2 minute video (we are NOT looking for perfection here)! Click here for more information about creating, uploading your video. Questions (after you click here)? Contact Soumita at sacharya@ltc.org and/or 

Sabrina

 at spedersen@ltc.org.
The deadline to submit your video is November 13th! 
What the community needs to know:
Put November 21st and 22nd in your calendar and let your friends, family and colleagues know about it!
Be sure to follow Lowell TeleMedia Center (LTC) on Facebook so you can share the videos they'll be posting that weekend!
Participate in the Lowell Shopping Network Facebook Group (open to ALL Greater Lowell area businesses and residents)!
LSN Facebook Group
Join the Facebook Group that will be active not only for the month of November but beyond that! (Because we're all in this together!)
Please note that any business in the Greater Lowell area is WELCOME to post in this group.
What businesses need to know:
Use this as an outlet for marketing and PR. This is a captive audience of businesses and consumers that want to help you!

Share information about your product and services
Post your holiday sales
Give group members insight about your business
Thank your customers
What the community needs to know:
Become an active member of the group to help other consumers know all about the wonderful items, artwork, food, etc. that Lowell has to offer. And to give local businesses support and social smiles.

Post photos of your purchases
Give a review
Ask for a recommendation
Share ideas
What everyone needs to know:
Make sure you tag your post using Topics. Post your content and then click on the three dots (upper right hand side) of your post and select Add post topic.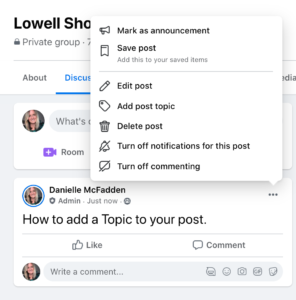 A Social Media Movement
Lowellians are known for our pride, partnerships, and creativity. Now, more than ever, we need to work together to help our economy and businesses who are the heart and soul of our community! So what are we waiting for? Let's start a Lowell Shopping Network Social Media Movement!
What everyone needs to know:
Post, post, oh, and post some more. Every time you eat local, shop local, play local, etc. Post about it!
Use hashtag #LowellShoppingNetwork when posting.
Spread the love – go to Facebook, Google, and Yelp to review local businesses you love in our community.
Become a part of the Lowell Shopping Network (an exclusive club that we all can be a part of – wink, wink) and wear that honor with pride!
The Lowell Shopping Network… We're in… Are you?