Back To Calendar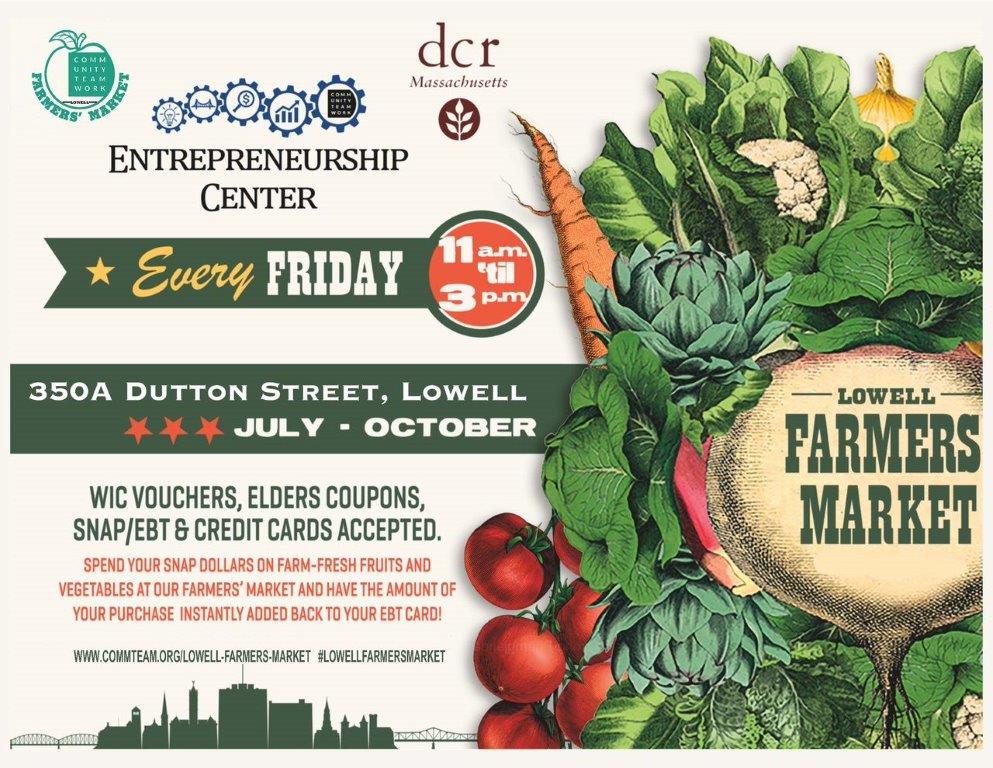 Lowell Farmers' Market - New Location!
Date
Friday, September 22nd, 2023
Location
Hamilton Canal District / Garage
350A Dutton Street, Lowell MA
The 2023 Lowell Farmers' Market launched on Friday, July 7th in its new location with storefront space in the Hamilton Canal Garage (350A Dutton Street – straight over the bridge) and additional vendors filling the lawn in front of the garage. In partnership with the City of Lowell, this will become its permanent home, eventually expanding into the available storefront space, which will provide a year-round home for the market!
We will be welcoming a long list of vendors this year, including Bitz N Peace, My Tiny Farm, Precious Prosper, Fresh Start Farms, Mill City Mercantile, Phalla's Farm, Flats Mentor Farm, Seona's Fresh Produce, Mill City Grows, Sabor Boriken LLC, Castle Cookies LLC, 168 Seafood Market, Wholly Schmidt Foods, Monkish Nomad, Sweet Lydias, and MS Handmade Jewelry by Maria Laou Stathopoulos just to name a few! We will also welcome local food truck Mira Ve, featuring delicious Columbian offerings, the Eggroll Cafe and more. Entertainment will be provided by singer/guitarist Arthur Terembula and others!
We hope you will join us every Friday, between 11am and 3pm beginning July 7th (except for Folk Fest weekend, July 28) from now through October 27th.
Contact Emily MaGovern, Progam Coordinator for the Lowell Farmers' Market: emagovern@commteam.org or LowellFarmersMarket@commteam.org
The Market is a program of CTI's Entrepreneurship Center and has been sponsoring it since 1979!
Learn more about Lowell Farmers' Market: www.commteam.org/lowell-farmers-market
Community Teamwork
City of Lowell
Department of Conservation and Recreation
Partners: WIC, MassSave, Spindle City Corps