We are very excited to be working with The Sun again this year on our 2021 Community Guide! This year's theme is Community Unity and we are asking for YOUR help to nominate those in our community who have gone above and beyond during the pandemic.
All GLCC members are automatically included in the Community Guide under the Keep It Local! section. Please check your listing to make sure that all of your information is correct by clicking here. 
Not a member, but want to be included? Join here or contact Danielle McFadden at dmcfadden@greaterlowellchamber.org.
There are also great advertising opportunities available by contacting Fred Splaine at 978-766-8384. (Please note that all ads buys are through The Sun, not the GLCC.)
Click here to view the advertising rates and opportunities.
Important Dates and Deadlines:
Nominate a Community Hero – Friday, February 12 to Sunday, March 14, 2021
Vote for a Community Hero – Monday, March 15 to Sunday, March 28th
Deadline to Join the Chamber to be Included – March 22nd
Publication Date – Friday, April 30th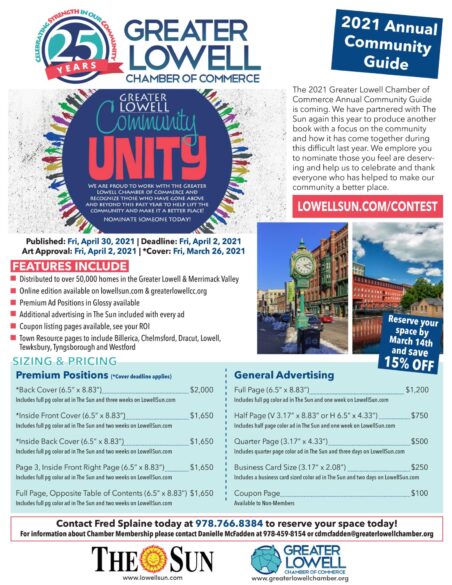 Comments