Join us and our local Municipal Leaders for a panel discussion about the region with Moderator Patrick Cook, Executive Director of Public Affairs at Middlesex Community College!
Confirmed: Billerica, Chelmsford Town Manager Paul Cohen, Interim Dracut Town Manager Ann Vandal, Lowell City Manager Eileen Donoghue, Tewksbury Town Manager Richard Montuori, Tyngsborough Town Administrator Matt Hanson, Westford Town Manager Jodi Ross
Do you have a question for our Municipal Leaders that you'd like us to ask? Please click here to submit your questions.
8:00-8:30am: Networking and Breakfast
8:30-9:45am: Panel Discussion
9:45-10:00am: Networking
Here's a video from our 2019 Inaugural Community Connections Breakfast!
2020 Platinum Sponsors: Enterprise Bank, Circle Health, Jeanne D'Arc Credit Union
Event Sponsors: National Grid, Lowell Five Bank, EMD Serono, Lockton Companies and Unicare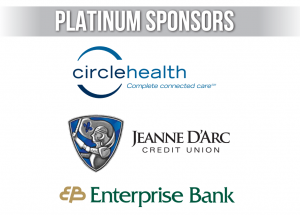 Comments