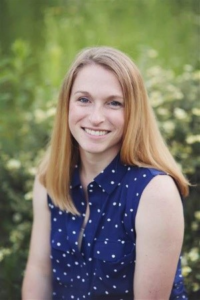 Ashley Joyner – Owner/Designer, Joyfleur
Ashley Joyner is the owner and designer of a wood flower florist company called Joyfleur. As a creative at heart, Ashley honed her floral design talents, and blossomed her love of flowers, while working for a florist as she obtained her bachelor's degree at Westfield State University. Though she kept busy working on a variety of creative projects, those skills and interest were largely set aside for nearly fourteen years while she focused on a successful career in bank marketing, where she played an integral role in rebranding and growing the financial institution.
In 2018, Ashley created time for her love for floral design while working with wood flowers. She was able to transform the raw wood blossoms into colorful, hand painted flowers and succulents, which then became unique, one-of-a-kind arrangements. As she created more custom wood flower pieces, demand also grew for her designs and product. Through the positive feedback from strangers to friends and family alike, Ashley quickly realized that her new hobby had the potential to become something more. From there, Joyfleur was created and the creative outlet became a business.  Joyfleur has been steadily growing in volume and scope from its one time hobby beginnings through a strong social media presence and word of mouth referrals.
Ashley resides in Berlin, MA with her husband and two sons. For more information about Ashley's offerings follow Joyfleur on Facebook and Instagram.
Join us on May 14, 2019 for our

Annual W.I.S.E. Breakfast

for a panel discussion on The Pursuit of Passion!
Comments