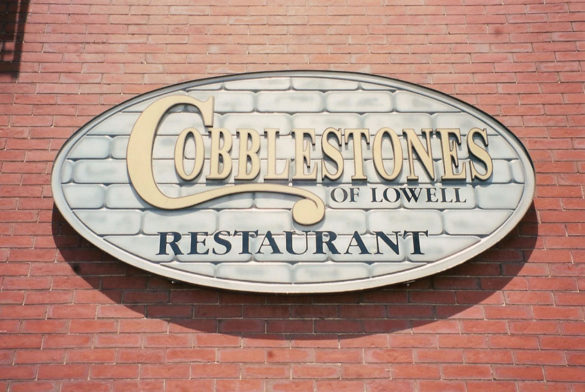 If you're from the Greater Lowell area, you've probably heard of Cobblestones, located in a historic brick building on Dutton Street, it is a staple of the downtown Lowell scene.  This restaurant features a unique menu that rotates seasonally, drinks included.  This summer you can find items like pan seared scallops, maple-pepper roasted 1/4 chicken, double decker Reuben, and so much more on the menu!  They are always finding ways to keep their menu fresh and exciting, so you will never be lacking for options when it comes to your meal.
One of our favorite things that they offer is their Sunday brunch, after all who doesn't love a good brunch? It is every Sunday, from 10:45 AM – 2:45 PM and each week they offer new specials.  Some of their most popular brunch items are their fried chicken & bacon waffle, as well as their Coco Puff Express Martini, yes you read that right, a Coco Puff martini!  Now you can enjoy one of your favorite childhood cereals as an adult beverage, oh and they also have their Komendant Krunch which is infused with Captain Crunch cereal if you're not in the mood for chocolate that early.  Are your mouths watering as much as ours are?  Well we're just getting started!  They also offer avocado toast, a short rib hash skillet, and some lunch options including a classic NY Reuben, fish 'n chips, and chicken marsala, just to name a few.  They're also mixing it up by adding live music to every brunch beginning in September!
If you're on a budget, Cobblestones has some great deals you may want to take advantage of, including their Buck a Shuck oysters that are available every Tuesday from 3-6 PM (while they last).  There aren't many places that offer a deal like that!  They also have a Reverse Happy Hour every Friday night where food is 50% off after 9:30 PM, and as they like to say, "If your date's not cheap, we are!".  So if you're out and about in downtown Lowell for the night and are craving a late snack, pay them a visit!
We also want to mention the private dining options they have available, there are numerous function spaces and private dining areas to choose from, whether you are hosting an intimate dinner, or a company outing, they would be more than happy to accommodate you.  Their charming interior and delicious food will leave you and your guests with wonderful memories, and a full stomach.  So, have you made a reservation yet?  Once you do give us a call, we're right down the street!
Comments