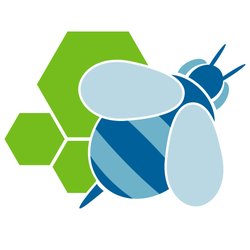 Have you heard the latest buzz?  Our friends at Blue Bumble Creative are always working on unique new products and services, and we wanted to make sure our members know about everything they have to offer.  When it comes to making a business successful, they need to be able to stand out against others in their industry, and a great way to do that is to have an attention-grabbing logo, website, and overall brand.  That's where Blue Bumble comes in, they offer a wide variety of services to their clients and do it all with a personal touch.  How often do sales teams personally deliver orders and, on occasion, special gifts?  Not very often unless you're working with Blue Bumble!
Graphic design is one of their specialties, and they never use a template for their designs, so you can be sure that your design will be completely unique to you and your company.  They can help you design a new logo, create brochures, business cards, invitations, and so much more.  Thinking of re-branding your business completely? They can help with that too!  Their design experts will walk you through the process and make sure you are happy with every last detail.  Another awesome service that they offer is web development.  Many consumers are looking online to go over their options before committing to a company, and if you have a website that stands out against your competitors, that could be the deciding factor to getting a new client/customer.  They can make your website "as sweet as honey" so that no one will be able to resist you!
You can even hire them to be your "worker bees" by utilizing their production services.  They can work on typesetting, proofing, printing, mailing and fulfillment, there's really nothing they don't do.  They try to make everything as easy as possible for their clients, and their hard work and dedication truly shows in every project they do.  Another specialty of theirs is signage, whether it's a custom sign/banner, vehicle graphics, or a trade show display, they will make sure your signage is eye-catching and professionally installed.  Need some awesome marketing materials for a trade show? They've got you covered, with everything from pens, tumblers, rack cards,  jar openers, and t shirts, to more unique items, we're sure you will not be disappointed.
Everyone really is buzzing about Blue Bumble, and they are busy working in the hive to keep every single client happy.  From their sales team, to the design team, all of their bees go above and beyond to ensure they have nothing but satisfied customers.  They take pride in forming lasting relationships with their clientele, and we can say from experience that they are nothing but wonderful to work with.  So, if you find yourself in need of some new marketing materials, a new logo, or want to completely rebrand your business, give them a call, they will be happy to help!
Comments