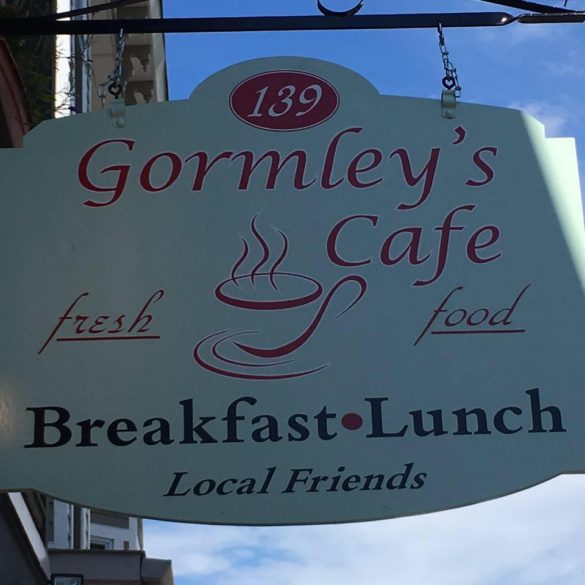 As you have probably realized by now, here at the Chamber, we love food.  We especially love food made by small, local businesses that tastes amazing, and luckily we get to meet so many businesses and are always finding new places we love.  We recently did a ribbon cutting to celebrate the Grand Re-Opening of Gormley's Cafe in Lowell, it has been a breakfast staple since 1951 and was recently renovated and opened by new owners, Joann and Craig. They pride themselves on their food which is made from fresh, local ingredients and always from scratch.  Trust us when we tell you, you can taste the hard work and love that goes into every plate, we have never left hungry or disappointed!
When you first walk in to the cafe, you will be greeted with a warm smile and told that you are welcome to sit anywhere you like.  Before long, someone will be over to take your drink order, and then you will have to make the difficult decision of what to order.   There are so many options to choose from, but if you're  there for breakfast, we can't say enough about their breakfast sandwiches.  They melt in your mouth and if you order a side of home fries with one, you'll definitely be starting your day with a full stomach and a smile on your face.  Customers also rave about their homemade hash and fresh baked muffins, so it sounds like no matter what you order you won't be disappointed.
Many people know them for their breakfast menu, but did you also know that they serve lunch as well?  We haven't tried that yet for ourselves but we heard their french fries are amazing!  They also rotate their specials daily, and sometimes put unique twists on classic foods, so there is always something new to try!  In addition to their specials, the lunch menu includes salads, burgers, sandwiches, and different club options, and since everything is made from scratch, you know it's always going to be fresh and delicious.
If you want, you can even show your Gormley's pride by purchasing one of their t shirts or travel mugs that they have for sale, the mug is only $12 and the first fill-up is on them!  So, will you be stopping by next time you're craving some fresh, local food from friendly faces?  If so, you might just see us there too!  As we said, you really can't go wrong with anything you order, combine that with the awesome staff and we wouldn't be surprised if this became your new favorite go-to spot, we hope to see you there!
Comments