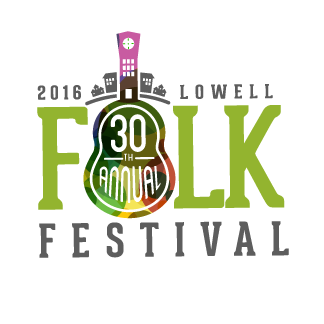 If you're from the Greater Lowell area, odds are you've heard of the Lowell Folk Festival that takes place in the heart of downtown Lowell.  Even if you're not from the area, you still may have heard of it as this festival draws a crowd from all over the country!  As one of the longest running, FREE Folk Festival in the country, it is a perfect way to spend a weekend with family and friends, all you have to pay for is parking and your food.  There is so much to see, hear, and eat throughout the weekend, and talented performers from all over the world will be taking the stages throughout the downtown area, entertaining anyone who passes by with their music and performances, while craft vendors and food vendors line the streets.  Did we also mention that this is the 30th year of the Folk Festival?! We are so excited to be working with them for this momentous occasion and can tell you first hand that this year is going to be the biggest and best yet!  So, mark your calendar for the last full weekend in July, the 29th-31st and get ready for food, fun, and spectacular performances.
As we mentioned, the Festival is free to attend, but it is certainly not free to put on.  To keep the festival free, they rely on donations from attendees, and people in the area who look forward to attending each year.  If you're one of those people, you can help them reach their goal of raising $30,000 in 30 days for the 30th Annual Folk Festival!  This beloved event is enjoyed by so many, and shines a spotlight on Lowell's diversity and historical significance, which is why it's so important to donate and make sure it can continue for years to come.  This festival fosters an amazing feeling of community in our own city, and allows us to bring diverse performers from all over, right to our own back yard. This year's performers include King Sunny Ade & his African Beats, Natalie MacMaster & Donnell Leahy, Lurrie Bell's Chicago Blues Band, and so many other talents! Click here to learn more about the artists you'll be seeing this year, and if you'd like to help keep the Folk Festival free, click here and donate before July 12th to help them raise $30,000! You can also click here for more details on donating and view the thank you gifts you can receive for donating.
One of our favorite things about the Folk Festival is the food, you can literally eat your way around the world!  There are stands set up all throughout downtown featuring ethnic foods from many different ethnicities.  From Greek, Polish, Asian, Latin, Burmese, to Armenian and so much more, the options are endless and you will not leave hungry!  The best part about the food vendors is that they are all non-profit ethnic organizations, mostly made up of locals, who come together to prepare and sell the foods of their heritage, so your meal is also benefiting a great cause.  The festival is also very proud of their commitment to "Go Green" as they use biodegradable plates and utensils and are known as one of the most "green" events around.
As we said this is a family friendly event, and kids will love the family activity area that is going to be running from 12 – 5 PM Saturday and Sunday.  It will feature interactive arts and crafts, games including box hockey, ring toss, bean bag toss, and so much more.  So, have you started your countdown yet?  We hope to see you there in just a few weeks, you can find us running the Bucket Brigade!  If you'd like to help but aren't able to donate, the Bucket Brigade is a wonderful way to get involved, and still be able to enjoy the festival, all you need to donate is your time!  If you're interested in participating in the Bucket Brigade, handing out beads, and collections donations, email Danielle at dmcfadden@greaterlowellchamber.org.
Comments