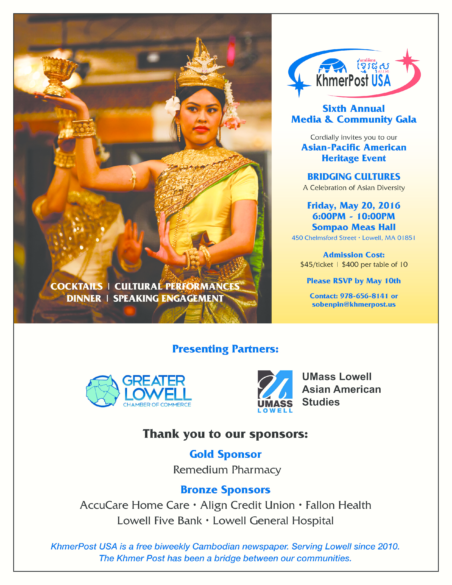 As many of you know, Lowell has a very strong American-Cambodian community that we are very proud of, a major part of that community is the Khmer Post.  Founded in 2008, they are the most read Cambodian newspaper in Cambodian-American communities across the East Coast.  The paper is printed bi-monthly in both Khmer and English, and consists of 32 pages, it is a huge resource and a way to provide important information to a large part of our community, which may otherwise be isolated by a language barrier.  Not only do they publish international and national news, but also important local news related to health, education, politics, and community involvement.  With over 50,000 readers and mailing subscriptions available in the United States, Canada, and France, they certainly have a wide reach and are only gaining more and more readers.
Their mission is to facilitate mass communication between Cambodian communities and their families by addressing news on every level, both in the United States as well as Cambodia.  They take extreme pride in their publication and hold themselves to very high standards, and often take their readers feedback into account when considering what types of stories to publish in their upcoming issues.  They even provide quarterly training on the journalism code of ethics to their staff members to ensure that their quality of professionalism is always in line with the Khmer Posts's vision.  They really put so much effort into producing a quality newspaper for their readers, and it certainly shows!
In addition to their publication, they also host an Annual Media & Community Gala which celebrates "Bridging the Cultures" in the city of Lowell.  We are excited to be presenting partners for this year's gala which will feature Asian cultural performances, a cocktail hour, speaking engagement, and a sit-down dinner.  It is going to be held on Friday, May 20th from 6-10 PM at the Sompao Meas Hall in Lowell, and admission is $45 per person or $400 for a table of ten.  This event is sure to be not only fun but also educational, and we're sure the food will be delicious!  We hope you're able to join us at this wonderful event that brings together many important parts of our community!
If you're interested in learning more about the Khmer Post or would like to advertise with them, you can call 978-677-7163.  They are a wonderful organization to work with, who produce a quality publication distributed to over 50,000 readers, and we are very proud to have them as Chamber members!
Comments