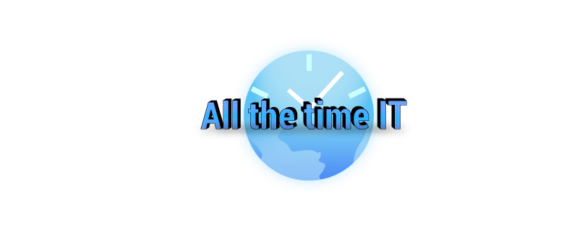 Let's face it, computers can be confusing.  As technology savvy as we may be (or like to think we are), there's always going to be something we don't know or a new update we're going to need.  That's where a good IT company comes in, and lucky for us we have one of the best right here in our office!  We're talking about All the Time IT of course, many of you probably know the owner, Adam Rowley, as he is a regular at many of our events.  Trust us when we say that he is great to work with, we are speaking from experience after all!
Everyone uses technology in their business, which means at some point they're going to need help with it, so why not rest easy knowing your business is protected and in good hands?  When you think about it, how much would a lost hour of productivity cost you?  Tha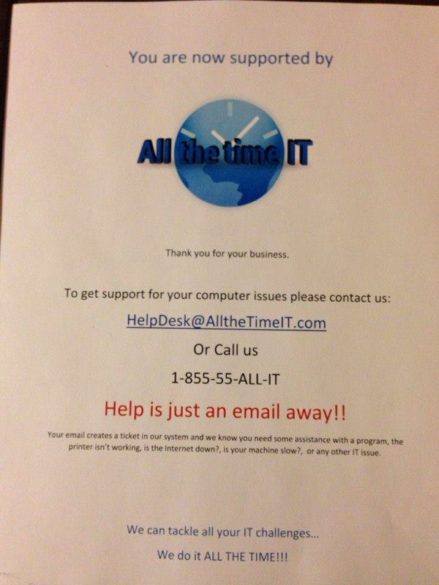 t cost alone would make it worth it for many companies to make sure they are protected, let alone what could happen if their system crashes or is hacked.  With All the Time IT, you won't have to worry, because your business will be protected All the Time.  By turning your IT needs over to them, you'll be able to work on your business rather than in it, All the Time IT offers everything from complete coverage, to one-time services for set-up etc.  Technology is constantly changing, which is why it's so important to know someone who understands that and keeps you as up-to-date as possible.
When it comes down to it, a slow machine that is not functioning at it's highest capability is costing you money, All the Time IT works to partner with you to identify issues, fix them, and prevent them from happening again in the future.  Their technicians are there to help with all issues, big or small and can assist with computers, laptops, servers, WiFi, firewalls, security audits, workstation builds, corporate anti-virus, transferring information to the cloud, tablet and smartphone setup, virus and malware removal, replacing in-house IT, and so much more!  Pretty much anything that has to do with your computer, they can help with.  They typically service companies with 10-150 employees, but can service larger or smaller companies if it is the right fit.
If you've been experiencing issues with your office technology, or just think that it could be run more efficiently, give All the Time IT a call.  They are available 24/7/365, what more could you ask for?  Not many companies can say that, and not only are they always available, but they are committed to getting you back up and running as quickly as possible.  We know that we are happy customers, and we're sure you will be too!
Comments