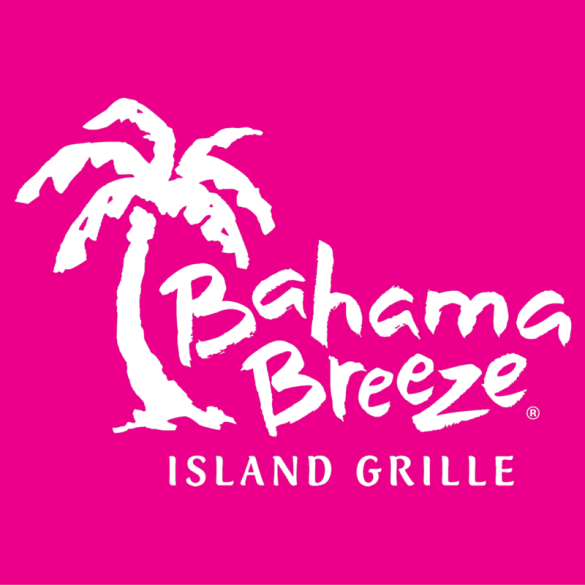 During the colder months, many of us are probably wishing we could escape to a warmer destination where we can be surrounded by palm trees, music, and sip on fruity drinks without a care in the world.  Lucky for us, we can do just that right in our own back yard!  Bahama Breeze Island Grille is a tropical escape located in Tyngsboro, and although they are so close by, their menu and atmosphere would make anyone think they had hopped on a plane to the Caribbean.  We are certainly no strangers to them as we have hosted multiple mixers there and frequently stop by ourselves for some of their famous coconut shrimp!
Located right before the New Hampshire border, and next to the Pheasant Lane Mall, Bahama Breeze is in a perfect location as it's right next to a shopping plaza with a movie theater as well.  If you're in the mood to do some shopping or see a movie, it's a perfect place to stop for drinks and a bite to eat.  Once you're inside, the bright colors, island music and tropical décor will help you forget all of your troubles.  They also have a very extensive drink and food menu so there's definitely something for everyone no matter what they're in the mood for.  If you're looking for a great spot to host a private party, they can do that as well.  Whether it's a business function or a birthday party, your guests will not be disappointed if you choose to host at Bahama Breeze.
Another thing to love about Bahama Breeze is that they have happy hour specials on appetizers!  Their food is already delicious, but when there's a happy hour special it's impossible to resist.  Many of their appetizers are half off, and that includes the delicious coconut shrimp we mentioned.  It also includes favorites such as chicken quesadilla, warm spinach dip and chips, Key West nachos, and crispy onion rings.  If you're in the mood for something different, they have a lobster & shrimp quesadilla, firecracker shrimp, a jumbo lump crab stack, and so much more!  Happy Hour runs from 4 – 6 PM Monday through Friday, and there's also a late night Happy Hour from 9 PM – close Sunday through Thursday.
So, will we be seeing you there?  Next time you're in the area and are looking for a great place to relax and grab a bite to eat, look no further than Bahama Breeze.  Whether you visit in the colder months for a tropical escape, or stop by when it's warm and sit on the patio, one thing that's for sure is that you'll definitely be planning your next visit back!
Comments