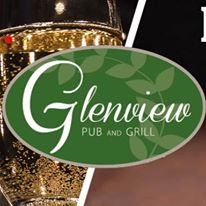 We learn a lot working for the Greater Lowell Chamber, but if there's one thing we know, it's where to get good food. Lucky for us we have a ton of members who serve up delicious meals, and the Glenview Pub and Grill is no exception. The Glenview first opened its doors in 1956 and the same family has owned and operated it for the past 20 years. They are very proud of the fact that they are a "from scratch" restaurant and try to give their diners a unique experience when they visit. They are always coming up with unique cocktails and have a wide variety of wines available, as well as different craft beers, there are 18 on tap and many more bottled. A full take-out menu is also available for those who want to grab and go.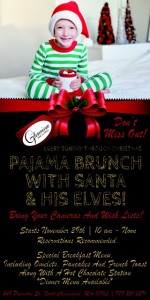 In addition to their extensive food and drink menu, they also have entertainment for their patrons. Their pub area has all of the big games and guests can try their luck with KENO, or stop by on a Saturday for some karaoke, even if you don't participate, it's always fun to watch. You won't want to miss Wednesday night at the 'View when they have their weekly pop trivia contest! Trivia is from 7-9 and a great time is always had by all.
Starting Sunday, November 29th running every Sunday through Christmas, everyone is welcome to stop by the Glenview for a Pajama Brunch with Santa and his Elves! It will be from 10 AM – 12 Noon, and there will be a hot chocolate station, omelet station, all you can eat pancake station, along with a la carte breakfast items including gingerbread pancakes and stuffer French toast! Bring your appetites, camera, and wish list!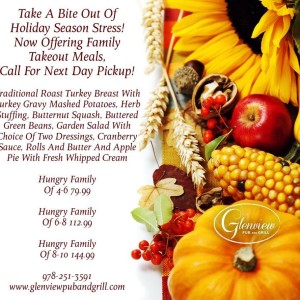 Speaking of the holidays, we're getting a little ahead of ourselves because we need to mention that for everyone out there who's not in the mood to cook on Thanksgiving, the Glenview can do it for you! They are offering family Thanksgiving meals to go through Wednesday, November 25th. The meals can either be served hot or cold for next-day heating, it doesn't get any easier than that! If you are planning on cooking for Thanksgiving but have an event coming up in the future that you would need food for, let the Glenview do it for you. They have an extensive catering menu to fit all of your needs, whether it's for a corporate meeting or family gathering, you won't be disappointed.
So, will we be seeing you at the 'View soon? We hope so! That brunch with Santa and his Elves does sound pretty enticing…. There's truly something for everyone there, stop by and enjoy a pint, we might just see you there.
Comments