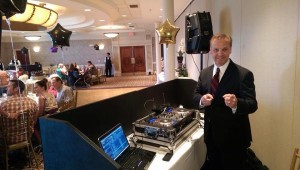 We love when we get to work with our members and see them in their element, we get to appreciate the hard work and talent that it takes to succeed in various different industries.  One of our members who clearly loves what he does is Ernie Parent, owner of E.J. Entertainment Productions.  We have worked closely with Ernie over the past few years, so we can personally attest to his commitment and enthusiasm when it comes to music and pleasing his clients.  He has been entertaining New England for over 30 years, and calls himself "A DJ with a personal touch!", so he is very experienced.  Ernie is perfect for weddings, anniversaries, class reunions, company outings, birthdays, and so much more!  As an entertainer, his goal is to make sure your event is a success, he has the knowledge, experience, and dependability to make any client feel at ease.
Ernie has an extensive music library, ranging from oldies, to rock, to swing, to disco, to country, to ethnic, to top 40's, he does it all! If you happen to have a request that is not in his library, he also has a computer with internet access, so almost any request can be played, and requests can be made in advance or right on the spot, he's always ready for anything clients throw at him.  His goal is to not only make sure his clients are happy, but that their guests are happy as well.
Not only does he provide the music, he will also act as a Master of Ceremonies and coordinate all of the formalities to ensure that your function goes off without a hitch.  You can't ask for better service than that.  To make sure every detail is perfect, Ernie likes to meet with his clients before their event, he is very flexible and will travel to a meeting location that is convenient for them.  He has a very strong eye for detail, and likes to prepare well in advance.  The relationships he builds with these clients have helped him gain referrals and build his client base.  Just recently he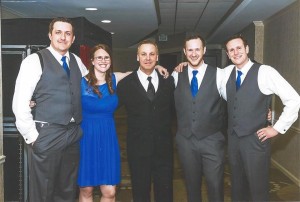 told us about a family that he met a few years ago, there were four children and he was hired to do the first sibling's wedding. As each sibling got married, they continued to call Ernie to DJ their special day, and just this year, he was the DJ in the fourth and final sibling's wedding.  If that doesn't show just how wonderful he is to work with, we
don't know what will!
As we said, we have worked closely with Ernie throughout the years.  Not only does he liven things up by providing the entertainment at our annual Mardi Gras Madness fundraiser, he most recently helped us with our 20th Annual Meeting.  Since it was the Chamber's 20th year, we decided to give the event a Roaring 20's theme.  Ernie came through with theme music that even had some scratchy elements to it so it sounded like genuine period music.  We can't comment enough on his attention to detail and commitment to ensuring his client's happiness. If you're looking for some musical entertainment for you next event, Ernie is the person to call!
Comments