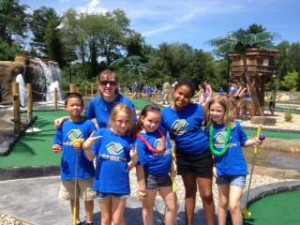 Summer is the perfect time of year to get outside and have some fun with family and friends, and lucky for you we know just the place you can go! Merrimack Valley Pavilion is relatively new to the Greater Lowell area, but they are quickly becoming one of the new go-to spots for parties and family fun. Conveniently located on Main Street in Tewksbury, they are certainly hard to miss, as the palm trees that line their Tiki Island Mini Golf course can be seen as you drive up. That's not all they have to offer though, we recently stopped by for an event and were floored by all of the different games, activities, and even types of food they had.
Of course the first thing we noticed as we pulled up was the Tiki Island Mini Golf course, lined with palm trees, fountains, and waterfalls, you'll feel like you're playing on a tropical island! This scenic golf course is 18 holes,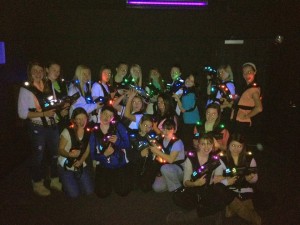 and is the perfect activity for all ages. As they like to say "mini golf is for ages 4 through 94"! They also recently added another outdoor activity, their new ropes course called "The Vines". It is for ages 4-12 and right now there is a special introductory price of $6! What better way to enjoy a gorgeous summer day than by hanging outside with friends and family? They even have an outdoor patio where guests can sit and relax after a round of golf!
The inside of Merrimack Valley Pavilion is just as impressive as the outside. The first thing we have to mention is their laser tag area also known as "The Jungle". We are not kidding when we say that we were ready to strap on one of their vests, grab one of the laser guns, and start a game right then and there. "The Jungle" is a 6,000 square-foot, multi-level area that is the stuff of dreams, well, for kids and anyone else who enjoys the game. Climb aboard their "Pirate Ship" to get a view from the top, but be careful because you never know where your enemies might be lurking, there are many twists and turns in there! This activity is recommended for ages 6 and up as the vests are weighted, but it's a great activity for birthday parties, corporate team-building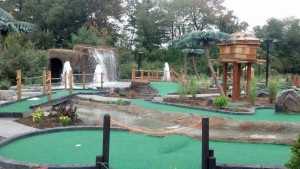 events, youth sport teams, and even adult leagues. Admission is $9 per person, per session, and each session is a half hour.
We know what you're thinking, "How can it get better?" right? Well we haven't even told you about their arcade! There are games suitable for all ages, and you can either try your luck at race car driving, shoot some hoops, and so much more. After that, head to the café for some pizza, chicken fingers, or perhaps a build-you-own sundae, there's definitely something for everyone! They proudly serve over 20 flavors of Richardson's ice cream and also have frozen yogurt and Richie's Slushes available. Parents will also be pleased to know that they also serve beer and wine! Enjoy it in the café while watching their plasma TVs, or take it to their patio to relax outside!
They also have some great specials going on now, a Triple Play, which is $17 and will get you 1 round of mini golf, 1 round of laser tag, and 20 tokens for the arcade. They also have a Double Play for $13 which will get you 1 round of mini golf and 1 round of laser tag. It's also not too late to book your summer camp outing, birthday party, or family reunion with them! They have availability and are still booking parties for this summer. We're sure we'll be hanging out there this summer, and we hope to see you as well! As they say, "Rain or sun, MVP is the place for family fun"!
Comments