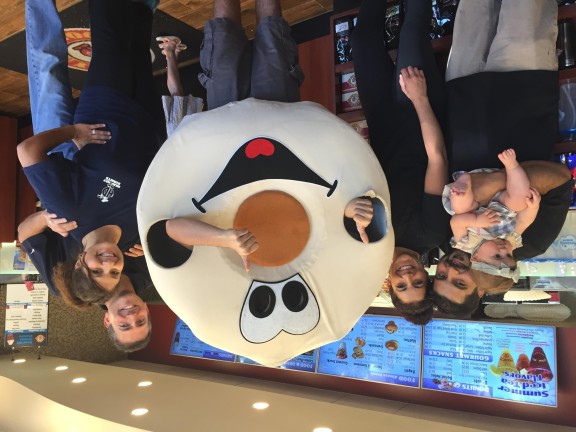 Do you live in the Greater Lowell area?  Do you love breakfast food?  If you answered yes to both of those questions, then you need to stop what you're doing now, yes right now, and head over to Heav'nly Donuts in Dracut!  Their name perfectly describes them, their donuts, and everything on the menu for that matter, are in fact, heavenly.  I was able to chat with one of the owners of Heav'nly Donuts, Chris Kombouras, and he was able to tell me more about the franchise.
They may have just opened their Dracut location on May 11th, but Chris and his family are no strangers to the business, they actually are celebrating their 40th Anniversary this year!  It all began with George and Elaine Saragas who opened the first Heav'nly Donuts location in Methuen all those years ago.  Today, the Dracut location is their 14th, and they are proud to say that it is still very much a family business.  George and Elaine's son, Jimmy Saragas and his wife, Cori, along with their daughter, Effie Kombouras and her husband, Chris, have all helped to grow the business by opening many locations and making it what it is today.
While talking to Chris, he told me that there are three things he wants people to remember about Heav'nly;
How fresh their products are. They bake their donuts and muffins from scratch daily, so you are guaranteed to always get the freshest and most delicious products possible.
They use fresh eggs in all of their breakfast sandwiches. None of their eggs are ever frozen or microwaved, you can truly taste the difference!
They offer over 20 flavors of coffee, all of them are brewed and do not have syrup shots. 
I have personally tried all three of these items since they've been open and I can tell you, they are absolutely delicious and once you try them, you won't go back to anything else!  Oh, and did we mention that they have coffee flavors like Milky Way and Pistachio?  We challenge you to find something you don't like on their menu!
It's not easy to get a new location running like a well-oiled machine, but Chris and the rest of the family have done it.  Besides their delicious food, the staff is always pleasant and timely when it comes to preparing orders.  Chris says that their goal is to get customers their orders in three minutes or less, of course sometimes circumstances prevent that, but typically they always reach their goal. It's also very important to them that they become part of the community, and since their opening they have already begun to sponsor local Little League teams!  Chris and the entire family at Heav'nly want to thank the Dracut community for all of the support they have shown them since they opened, they love being in this area and hope that their success continues (we do too)!
Comments