Looking for something fun and different to do this summer? Look no further than Altitude Trampoline Park! Conveniently located on Boston Road in Billerica, Altitude is one of our newest members and we were lucky enough to be a part of their recent ribbon cutting to celebrate the success of their business. During the ribbon cutting we got to take a look at their facilities, and to say we were impressed would be a bit of an understatement, we actually wanted to take our shoes off and start jumping right then and there! The great thing about Altitude is that it's not just for kids, it's fun for adults too!
If you haven't yet heard of Altitude, let us tell you a little bit about them; they are one of the largest indoor trampoline parks in the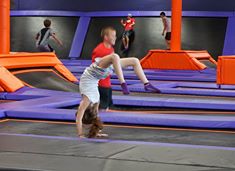 state, but trampolines are just the beginning when it comes to what they have to offer. Of course they have trampolines on the ground, but they also have trampoline walls that you can bounce off of to double your jumping fun! Their open jumping area is great if you're just looking for a leisurely bounce, or if you're looking for a bit of a challenge, try their basketball dunk lanes and see if you can make a slam dunk! They also have trampoline dodgeball, a 20 foot high rock wall so you can place bets on a race to the top, and a battle beam where contestants can battle it out and try to knock each other off into the giant foam pit below.
Parents, are you thinking that this sounds like the perfect place for your kids to burn off some energy? Well then you'll definitely want to take advantage of their Summer Fun Program! The program runs from June until August and is a three-day program from Tuesday to Thursday. This is a great way for your kids to get out of the house, get some activity, and interact with their friends. Another thing that kids will enjoy is their Theme Day, which they do once a week where employees dress up as classic characters! Parents, if you're worried about safety, know that that is their TOP priority. They regularly examine and maintain their equipment, their trampolines are the safest in the industry with no exposed springs, and they have trained court monitors on duty to make sure that there is a safe play environment for everyone.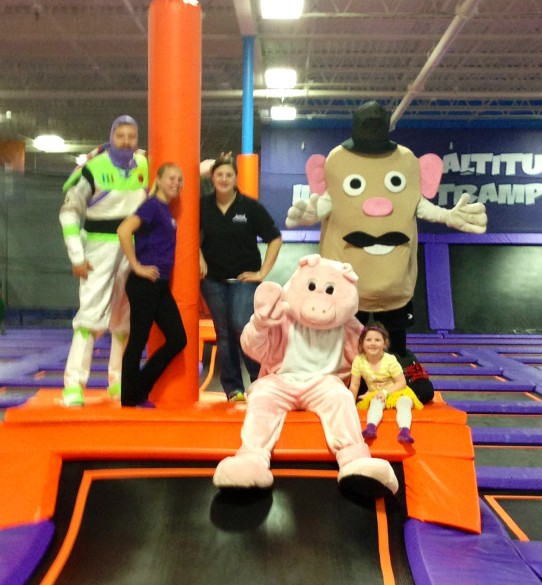 If you're reading this and thinking that you'd like to come here yourself, then stop by! At Altitude they say that the perfect age for jumping is "from 2 to 102", all are welcome! If you ask us, this sounds like the perfect opportunity for a company team-building day. They like to think of it as "Getting you out of the 'bored' room and into the fun". It's also great for Birthdays or any type of gathering you'd want to have! They have two private party rooms that each hold up to 40 people, and host many parties each month so they are well-versed in what makes a great event, it is sure to be fun for all involved!
So, have you booked a jump pass yet? Be sure to book them early, especially if you plan on going on a weekend as they tend to fill up very quickly! We hope you'll stop by Altitude at some point, and if you do keep an eye out, you might just see us bouncing around!
Comments