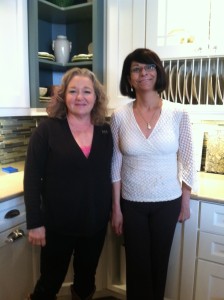 Here at the Chamber, we are lucky enough to visit our members and see the establishments where they conduct their day-to-day business, but it's not often that one of these businesses leaves us speechless. That's exactly what happened when we all set foot inside Nappa Interiors for a recent morning mixer. We were stunned by the gorgeous colors, unique lighting fixtures, and the overall "look" of the showroom. If you couldn't tell by now, Nappa Interiors specializes in interior design, and their showroom is just a glimpse into the talent of partners, Karen Nappa and Beth Schrager.
Karen and Beth opened their Dracut Showroom in March of 2014, and as soon as you set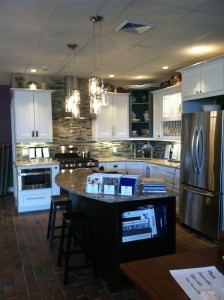 foot inside, their talent and eye for design is clear. Karen has been working in the interior design business since earning her Interior Design Degree from Newbury College, and brings years of experience to the table. Beth has years of experience in the business world and manages the day-to-day back end of the business, and also assists Karen with design projects. When I asked Karen what her favorite part of working there was, she said "Having a business partner that is the ying to my yang, we really balance each other out and finish each other's sentences". Beth loves that "Every day brings something new to the table", and said also says that she "Loves being surrounded by pretty things". We can't say we blame her after seeing her office!
In terms of services that they offer, they do it all, and as Beth says, "We provide soup to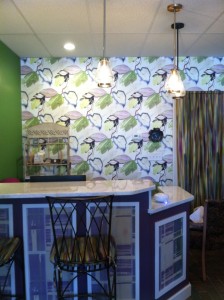 nuts"! Specifically, they do kitchen and bathroom design, custom window treatments, color and design consultation, shopping assistance, and so much more. They work with high-quality brands and will work with you to understand your lifestyle and personal taste and incorporate that into their design so that your house feels all your own. They also have relationships with contractors who will be the ones doing the work, but are also open to making new connections if you already have a specific contractor in mind. They provide the pretty, and the contractors do the rest! If you're not looking to re-do an entire room, they do offer a la carte services that are priced by hour.
Another exciting thing that they have going on is a free open house on May 28th! They want realtors, bankers, contractors, and anyone interested in interior design to stop by and learn more about their business. Karen and Beth are very excited for this event and will be providing hors d'oeuvres as well as adult beverages, and are looking forward to networking with potential future customers!
If you haven't thought about hiring an interior designer before, we hope you do now! Don't take our word for it though, stop by the showroom and see their talent for yourself, we're sure you won't want to leave!
Comments