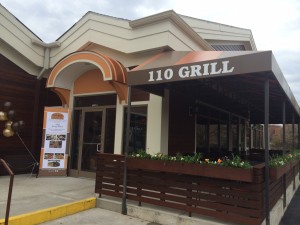 If you're one of our members, odds are you've heard of the 110 Grill, and if you haven't heard of them, you definitely need to keep reading! Not only have they been on our radio and TV shows, we've also hosted events with them and were lucky enough to be invited to their celebration to kick-off their new look. They recently underwent some major renovations and are looking better than ever, they even have a new menu which sounds amazing, and so if you've never been before, now is the perfect time to stop by!
First we need to talk about their food, they describe it as contemporary dining meets innovative cuisine, but the only word that we would use to describe it is DELICIOUS! They use high quality ingredients and also have a variety of options for those who are gluten-free or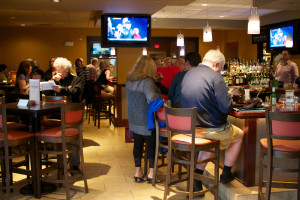 vegetarians, so there really is something for everyone. From the Firecracker Shrimp, to the "Cure" Burger, to the delicious desserts, you really can't make a bad choice when you place an order. They're also quite a bargain, and even have a Lunch Club that guests can join which means once you buy 10 lunches you get the 11th free! How awesome is that?
Did you know that they also have an outdoor patio? With the beautiful weather we've been having it's the perfect time to stop by for a bite while getting some fresh air, and maybe even a tan! Don't forget to order one of their creative specialty drinks while you're soaking up the sun! If you happen to go on a Thursday, you won't want to miss the live music that starts at 7, featuring talented local musicians.
Another thing that we love about them is their Happy Hour! While they don't have drink specials (due to Massachusetts law), they do have amazing deals on food including $1 oysters, $1 shrimp cocktail, and 50 cent wings. These specials are every Sunday through Thursday, from 3 PM – 6 PM in the bar/lounge. If you ask us, that's a deal that can't be beat!
Not located near Chelmsford? Not a problem! They also have a location in Nashua, NH (which does have happy hour drink specials), and a new location which will be opening in Berlin, MA in late September/early October! There are big things happening at the 110 Grill, and we're so happy that they are Chamber Members and that we get to hear about it first!
Comments