Join us on April 10th for our 19th Annual Municipal Breakfast! This is a great opportunity to connect with state legislators that cover your district. Stay informed about the issues that affect your business and community! This year's moderator is John MacDonald from Big Decisions, LLC. John is also the host of two radio shows on 980 WCAP: JMac & the Bear and The Pulse.
More about John MacDonald:  John MacDonald is the President/CEO of Big Decisions, LLC, which is a management consulting business that concentrates on offering strategic advice on Marketing, Public Relations, Economic/ Business Development and Social Media. John has a long career of success, achieving record results in the communications field and spending over 20 years managing marketing budgets, driving the bottom line in the financial services, restaurant, retail and real estate industries.
In addition John managed big media buys, managed results driven marketing/business development campaigns and has orchestrated cutting edge public relations events that have received maximum exposure. John helped those companies realize big profits and tremendous ROI from their efforts. John's expertise in business development and innovative techniques helped launch state and promote national efforts to bring other business development professionals together.
John's has experience as a former credit union executive and a CUNA Marketing and Business Development Executive Committee member, John is the former vice president of corporate strategy and communications of Lupoli Companies. John was responsible for overseeing the areas of corporate strategy, management, leasing and real estate development of a 2.7 million square foot, $180 million dollar renovated mill complex. John was also responsible for managing the marketing, business development, political affairs and public relations of Sal's Pizza Retail Division, Wholesale Division, and Salvatore's Restaurant's, Mary's Pasta & Sandwiches, which generated over $50 million per year in sales. Other areas of responsibility included brand implementation and strategy, corporate charitable fundraising, building project coordinator, sales/incentive strategist and company spokesperson.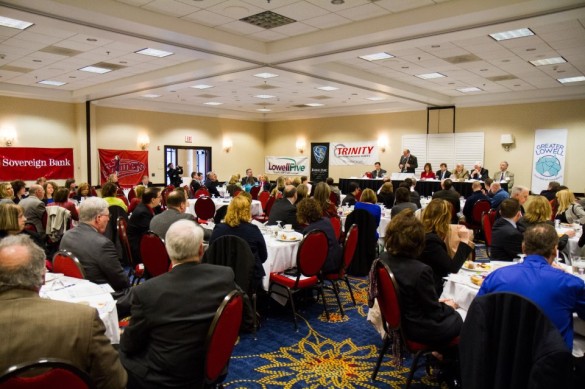 Thursday, April 10, 2014
7:30-9:00am
Four Oaks Country Club
Tickets: $40 each or $400 for a table of 10
Thank you to our sponsors:
Merrimack Valley Economic Development Council
Comments