Karen D.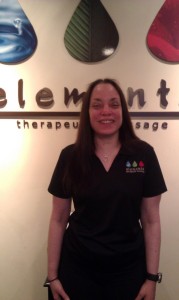 Licensed Massage Therapist and Therapist Trainer
Karen is one of many skilled therapists at elements Tewksbury and has been at the studio since it opened in 2008.  She received her massage therapy certification from The Salter School in 1996 and is also a Third Degree Reiki Master.  Her favorite Massage Modalities are Deep Tissue, Relaxation, Prenatal, & Asian Body Works. Before becoming a massage therapist, Karen was a registered Pharmacist and she holds a B.S. from Massachusetts College of Pharmacy. She believes that true healing comes from living a balanced life in mind, body and spirit!
Karen is available Mondays and Wednesdays ,9am-2pm, Fridays, 12-6pm, and every other Saturday, 9am-2pm.
What Clients are Saying about Karen and elements Tewksbury:
The quality of massages is excellent and so is customer service. The facility is immaculate and comfortable with a soothing atmosphere. Massages with Karen have become an important part of my health regime. I look forward to my visits….. Sara B.
Karen gives a wonderful massage. The prices here are very reasonable. The environment at the (studio) is relaxing. The receptionist is very welcoming…Linda S.
From the second you walk through the door, you are welcomed by a warm, smiling face and surrounded by a tranquil and serene space. Set the tone for my stress-relieving massage by Karen. It was such a positive, relaxing experience that I became a member.  Looking forward to my next visit!… Connie C.
This was my first Elements experience – and the first of many more. The level of relaxation was exactly what I was looking for… Fran S.
If you would like to book a massage with Karen or any of our licensed massage therapists, please call elements Tewksbury at 978-319-4584 .
For more information about elements, please see our website at www.touchofelements.com/tewksbury.
Comments