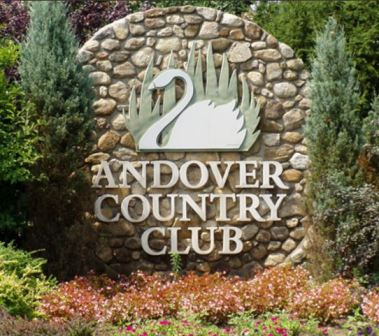 Founded in 1925, the Andover Country Club has long been a desirable spot for golfers and spectators alike.  Conveniently located just south of the New Hampshire border and only 20 minutes from Boston, their beautiful, championship 18-hole course is a draw for golfers from all over.  The course is meticulously maintained, and over the past three years, the bunkers and greens have undergone some major renovations, which has significantly improved the quality of play.  Golfers of all skill levels are welcome and will find the course challenging. They pride themselves on being an elegant, luxury, family-oriented golf club providing the highest level of service and hospitality and offer several levels of private golf memberships for those interested in joining.
The golf course isn't all they have to offer members either, there is also a private pool and tennis club on site which have a snack and full bar area with indoor and outdoor seating.  The resort-type atmosphere makes this the place to be during the hot summer months for children and adults alike. Children of members will also enjoy the play ground and spray ground at the club, as well as their basketball courts!  For the adults, if you like wine, you won't want to miss the intimate wine cellar they have as well, and afterwards stop by and check out The Links Restaurant, Lounge, and Outdoor Terrace.
If you're hosting a wedding or other type of special occasion, you've come to the right place.  Their Executive Chef, Event Manager, and staff work tirelessly to make sure their guests have everything they could desire, and their function spaces will take anyone's breath away.  Their outdoor garden is perfect for ceremonies, and their reception room offers stunning views, over sized dance floors, crystal chandeliers, fireplaces, marble topped bars, and more.  They are also extremely flexible when it comes to creating your menu, and want to ensure that every guest will enjoy their meal.  Trust us when we say that if you choose to host your wedding with them, your guests will not stop raving about it for years to come!  In addition to being a beautiful spot for weddings, they can also host Bar and Bat Mitzvahs, fundraisers, holiday parties, corporate luncheons/dinners, birthdays, and much more.
We know you must be dying to visit after reading this, and luckily we have the perfect opportunity for you to do so!  On Tuesday, August 23rd we will be partnering with the Greater Haverhill Chamber of Commerce and the Newburyport Chamber of Commerce for a Multi-Chamber Mixer here! It is going to be from 5-7 PM and is sure to be full of networking, new connections, delicious food, tons of fun, and amazing views.  Oh and did we mention it's also going to be Olympic themed?  We can't wait for this event which is sure to be fun for everyone, we hope you can join us!  Click here to register.
Comments