Welcome Home Vietnam Veterans Benefit Concert
September 17, 2016 @ 7:30 pm

-

10:00 pm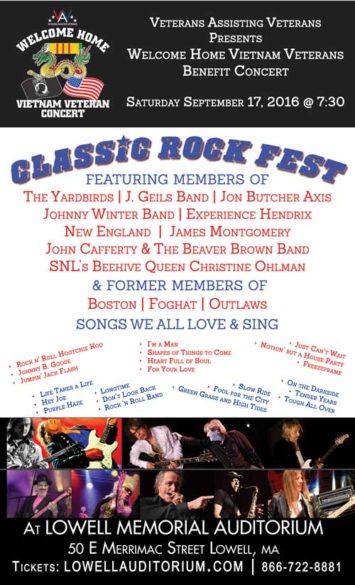 Please help the Veterans Assisting Veterans (VAV), a local 503 C charity, welcome home welcome home those who served during the Vietnam War; as well as those who returned from future conflicts.
In association with V is for Veterans, they will be presenting a concert Saturday September 17, 2016 at Lowell Memorial Auditorium. The concert is to help celebrate those who've served honorably, to honor those who did not return and to assist those who returned injured.
The event will feature some of the biggest names in New England rock history.
* Danny Klein the "Ace on Bass" and a co-founding member of the J. Geils Band
* Jon Butcher of the Jon Butcher Axis and a member of the Experience Hendrix Tour
* Barry Goudreau former guitarist of arena rock band Boston
* Johnny A formerly of the Peter Wolf Band and current guitarist for Rock & Roll HOF band the Yardbirds
* John Cafferty & "Tunes" Antunes from John Cafferty & the Beaver Brown Band (Eddie & the Cruisers)
* Paul Nelson Grammy Award winning guitarist for the Johnny Winter Band
* Christine Ohlman Saturday Night Live's (SNL) "Beehive Queen"
* Jeff Howell formerly of Foghat and southern rockers the Outlaws
Veterans Assisting Veterans is very active in assisting local veterans. Services they provide to vets consist of providing Trac Chairs, PTSD program assistance, involvement in needs based projects and contributor to other general assistance programs, all for free. The services listed above are only a small portion of all that they provide in the area.
If you have a parent or grandparent who served in Vietnam, or a friend, relative or significant other who has served recently., please consider attending this event as there is no limit to what the organizations we are partnering with can or need to provide. It is as broad as the needs of the veterans requiring the services and only limited by the funds we can help raise to assist these heroes. Tickets may be purchased by clicking here or going to www.lowellauditorium.com
limited amount of VIP packages are available. They include a laminated All Access Guest Pass for the event, invitation to pre-show Meet & Greet with the performers; consisting of a wine & cheese reception and free concert poster.
Produced by V is for Veterans. For further inquiries, call (978)979-2076 and like us on FB at https://www.facebook.com/VisforVeterans/
Related Events