Webinar: The Sandler Rules For Sales Leaders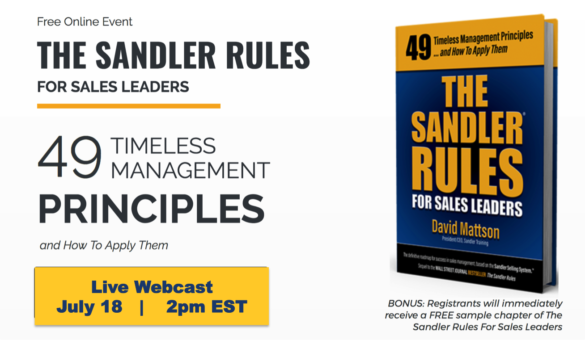 We are hosting a special, free webinar for sales leaders on July 18th, 2017 at 2 pm EST. Join Sandler Training CEO, Dave Mattson, who will present his best practices for sales management. Dave's latest book, The Sandler Rules for Sales Leaders, was another instant best-seller and the perfect follow-up to The Sandler Rules for salespeople.
Like most sale managers, you may be:
*Frustrated that rogue, "lone wolf" salespeople do things their own way, rather than using the same process as the rest of the team.
*Concerned about creating predictable forecasts and expectations of sales performance.
*Worried about your top-heavy salesforce with the top 20% generating 80% of the revenue.
We'll have a frank discussion on what works.
Related Events