Webinar – 5 Reasons Why Website Accessibility is Good for Your Business AND Customers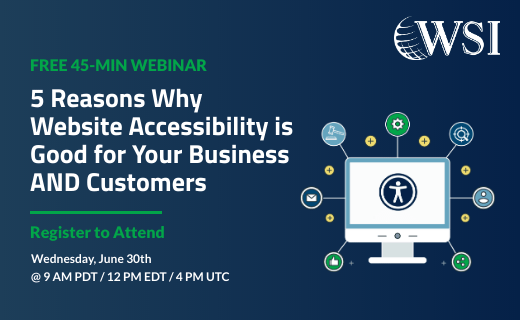 REACH A WIDER AUDIENCE AND LOWER YOUR LEGAL RISKS WITH WEBSITE ACCESSIBILITY
Every business should want to attract as many visitors to their website as possible. However, few take the necessary steps to ensure every individual can use their site. With millions of people having a disability that negatively impacts how they can consume web content, businesses need to start considering website accessibility as one of their core digital marketing goals in 2021.
Attend our free webinar to learn how website accessibility can help you reach a wider audience, positively impact your brand image, improve your search engine rankings, and help you avoid potential discrimination and legal complaints.
Here are some of the questions this webinar will answer:
• What is website accessibility, and why is it important?
• What elements can impact your website's level of accessibility?
• What are the business benefits of having an accessible website?
Register Now using Web Link
Related Events