Tailgate Party Fundraiser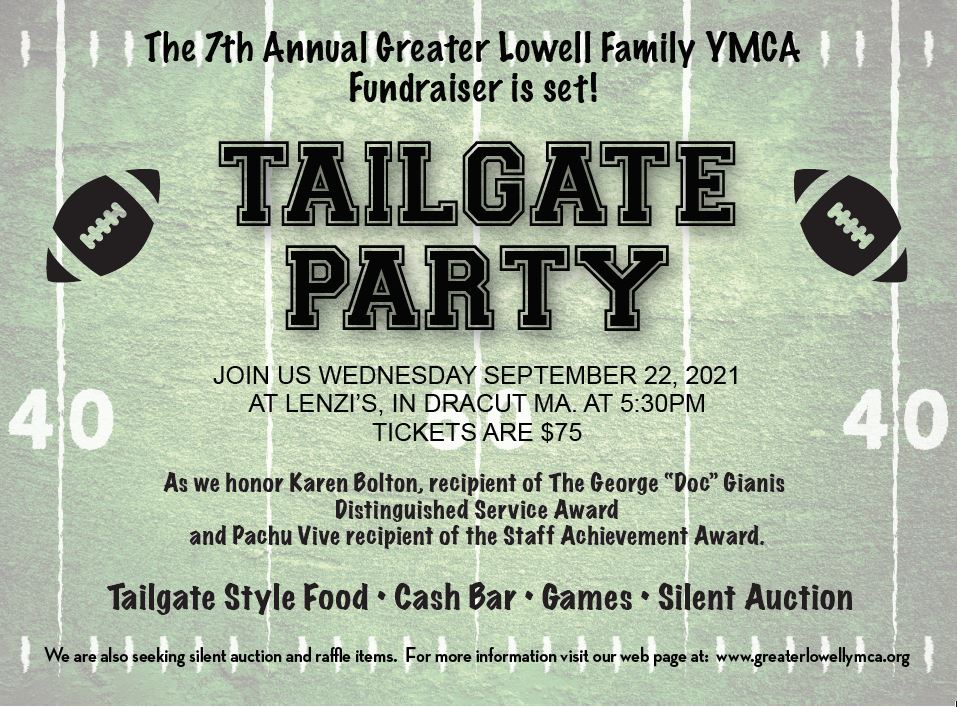 With the generous support of our many philanthropic partners we have been able to offer close to half of a million dollars in financial aid to hundreds of local children and families in 2021.
Each year we host a fundraiser to help with those efforts and provide the services
that are desperately needed, such as childcare, health and wellness classes, youth
sports and aquatics programs. We also take the opportunity to recognize a
volunteer and a staff member that have helped the organization achieve its mission
and stay committed to focusing on youth development, healthy living and social
responsibility.
This year we are once again throwing our famous Tailgate Party! The YMCA
fundraising committee invites you to be a sponsor for our 7th Annual Fundraising
Event. Join us on Wednesday September 22, 2021 from 5:30-8:30 pm at Lenzi's
810 Merrimack Ave Dracut, MA.
Our 2021 YMCA MVP's are Karen Bolton and Pachu Vive.
Karen Bolton is receiving the George "Doc" Gianis Distinguished Service Award.
Pachu Vive is receiving the "Friends of the Greater Lowell YMCA" Staff Service
Award.
Related Events