ReStore ReCycling Rally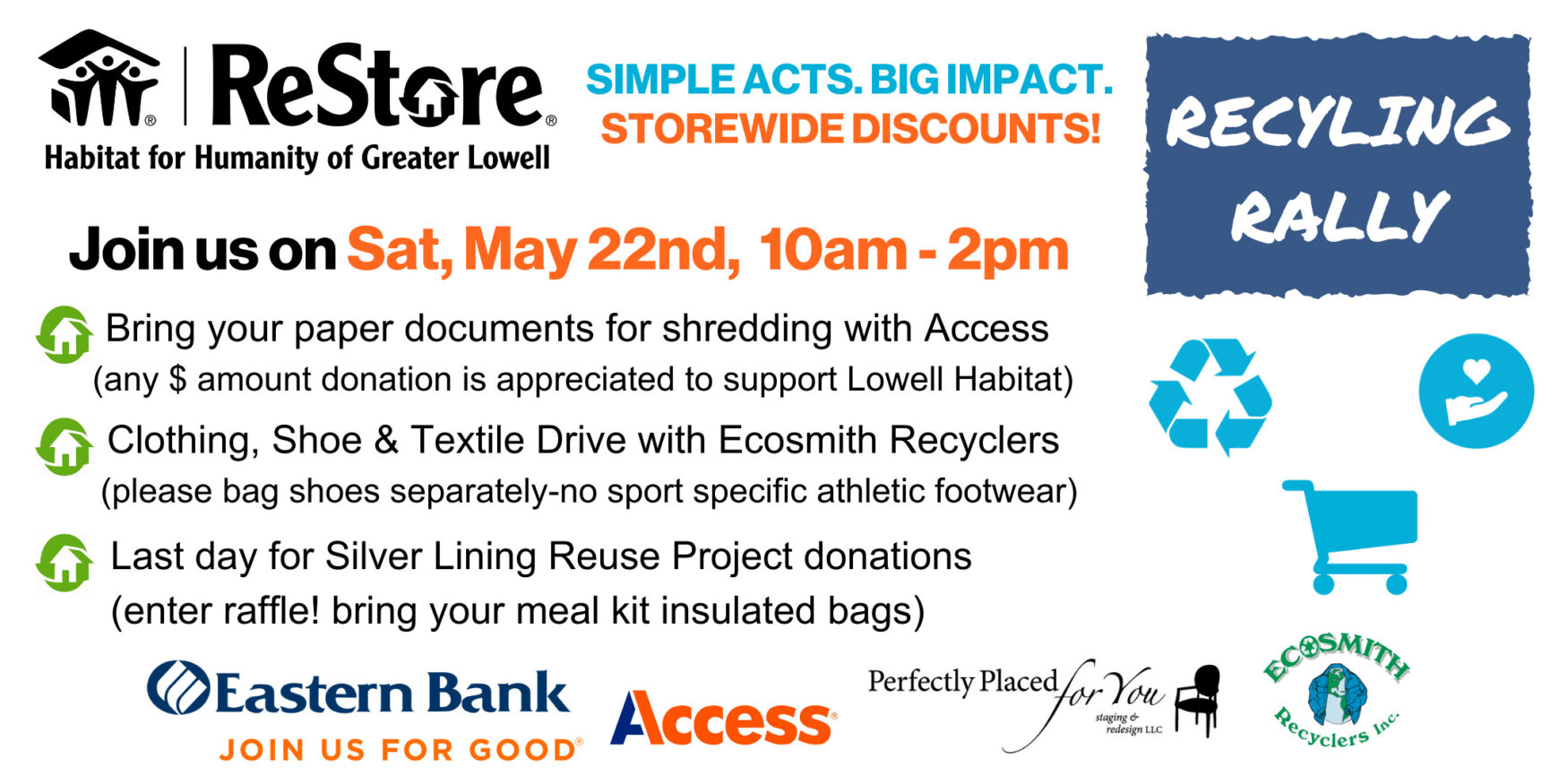 Responsibly recycling items is one of our missions!
The ReStore ReCycling Rally with include storewide discounts for shoppers, as well as multiple ways to recycle your old/sensitive paper documents for secure shredding, responsibly donate your unwanted shoes, clothing and household textiles/linens, and donate your silver insulated meal kit bags all at one event! It's a win-win-win for you and Habitat for Humanity of Greater Lowell. Donations for shredding is appreciated, otherwise, the event is no cost to attendees.
We are partnering with Eastern Bank, Access – Records Management & Shredding Co., Ecosmith Recyclers Inc, and Perfectedly Placed for You, LLC for this event.
For a full list of items eligible for donation to Ecosmith Recyclers, please visit https://ecosmithrecyclers.com/materials/.
* We cannot accept sport-specific athletic footwear (ski boots, roller blades, snow shoes, skates, cleats etc) and shoes must be bagged separately from other items.
* Masks are required. Social distancing and safety regulations will be adhered to.
* For additional information about this event, and a detailed list of all the items we will be collecting for recycling/reuse, please view or download the event flyer http://bit.ly/ReStoreReCyclngRallyFlyer.
* Registration is suggested but not required, just to help us with traffic flow and setup. https://www.eventbrite.com/e/restore-recycling-rally-tickets-154263727963
Related Events