Pass the Gravy- *KICKOFF* Event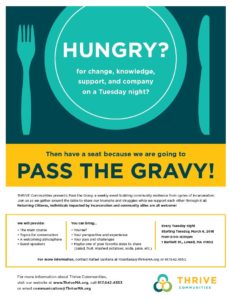 Join THRIVE and friends for the *KICKOFF* of our NEW weekly community building event!
Enjoy a delicious hot meal as we chat about building community resilience from cycles of incarceration.
ALL are WELCOME to this FREE event!
For more information, contact Rafael Santana at RSantana@ThriveMA.org | 617.642.4553
or
Visit our website for more information about THRIVE.
Related Events