Pass the Gravy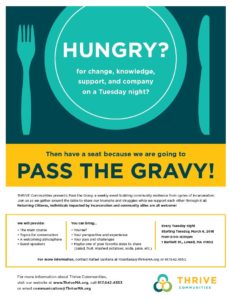 Join THRIVE and friends for our weekly community building event to discuss resilience from cycles of incarceration.
Enjoy great company while we provide a delicious meal, conversation topics, and guest speakers in a welcoming judgement-free environment. This event is a great opportunity for community members to learn more about the cycles of incarceration and the powerful role they possess in breaking that cycle.
ALL are welcome to attend this FREE event.
For more information, contact Rafael Santana at RSantana@ThriveMA.org | 617.642.4553
or
Click our website link below to learn more about THRIVE.
Related Events