Academy of Notre Dame Open House for PreK-12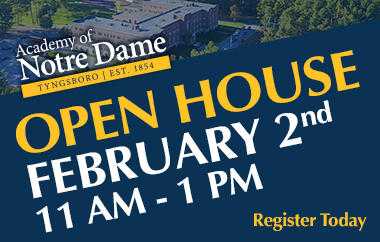 Discover what makes the Academy of Notre Dame different at our Open House event on Saturday, February 2, 2019 from 11 a.m. to 1 p.m. Let our students be your guide and explain the advantages of being NDA Prepared. We welcome families and their prospective students of all grade levels from Pre-K to grade 12.
During your visit you'll have the opportunity to:
-Visit with faculty and staff
-Tour our facilities and campus
-Get to know our students
-Experience a showcase of student organizations and athletics
-Learn about our mission and ministry
-Chat with parents and alumnae
-Find out why your student should be NDA Prepared!
To RSVP visit: http://www.ndatyngsboro.org/admissions/open-house-registration
Related Events