M2D2 IMPACT Accelerator Pitch-Off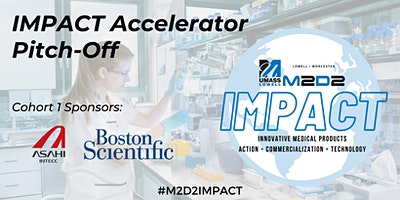 Hear ten medical device startups selected for the IMPACT Accelerator Program pitch their innovation to a panel of investors.
Calling all Investors, Medical Device Innovators, Biotech Entrepreneurs, and Life Sciences Industry Professionals:
Join the worldwide life sciences community as the startups from the Cycle 1 Cohort pitch their medical device solution to a panel of judges. These startups have been working with M2D2, Asahi Intecc, and Boston Scientific to advance the commercialization of their innovation through the IMPACT Accelerator Program.
What is IMPACT?
The M2D2 IMPACT program is a12-week accelerator program that will run for 6 cycles. The program aims to advance early-stage companies looking to reshape the future of healthcare. Selected companies will have the opportunity to engage with our sponsors' specialized research calls to help advance their business.
Related Events