Last Day of Ghost Signs Alive!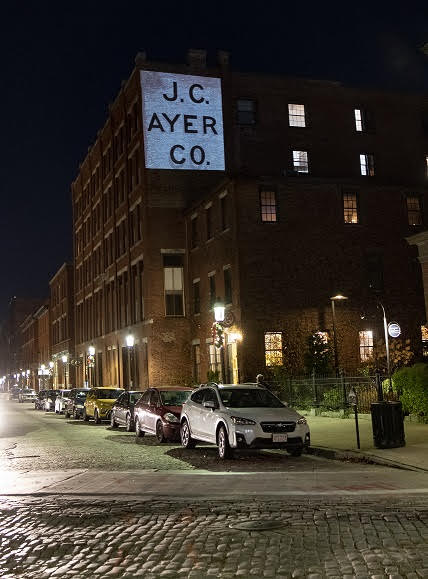 This is the last day to catch Ghost Signs Alive's inaugural nightly exhibit! The debut illumination event runs every night starting at 5:30 until 9:00 pm, recreating the nearly invisible J.C. Ayer sign on the building at 172 Middle Street using a projector with a short video loop showcasing animated versions of some of J.C. Ayer's iconic historic advertisements.
James C. Ayer's companies made patent medicines, including a popular cherry concoction known as a pectoral. The company thrived during Lowell's heyday in the late 19th century, but now there are few visible traces of the once expansive empire. Working with local experts, the DIY Lowell team has done research into Ayer's companies, how they advertised, and what the sign on Middle St. may have looked like a century ago. This building with the faded Ayer sign was once part of a much larger, bustling industrial complex run by J.C. Ayer Co. Through the new year, an animated recreation of Ayer's historic style will turn the ghost sign into a bright and vivid presence on Middle St. Just as Ayer promised improved "vigor" to consumers, this project seems to invigorate a vanishing piece of the city's past.
Ghost Signs Alive (GSA) has been working toward this first illumination since the fall of 2019. A community project, GSA has been the result of a sustained collaboration between local researchers, artists, historians, archivists, and businesses. To support the project, the team is selling a limited-edition Cherry Pectoral soap inspired by Ayer's and created and generously donated by Red Antler Apothecary, along with five distinctive postcards printed by Owl Stamp Visual Solutions. The cards show Ayer history in various forms, from shots of the building to recreations of the company's ephemera. These are available at various shops at Mill No. 5 and online at the Lowell Virtual Market (https://farmstanding.com/lowell-virtual-market).
Related Events