How to Make It Easier for Your Local Customers to Find You Online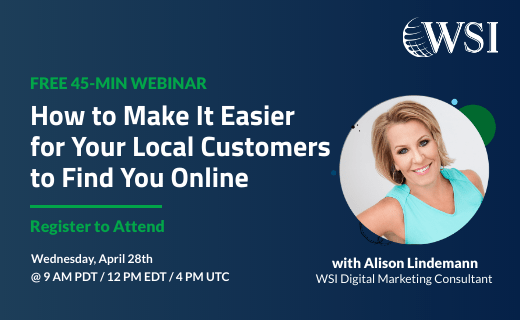 Are you a local business that is looking to improve your overall online brand awareness? Do your local customers have a hard time finding you online?
Register using the Link below.
Join Aveli by WSI on our upcoming webinar to learn how to improve your online visibility and be found by more of your local customers. In this 45-minute session, we'll share best practices and valuable tips that you can leverage to rise to the top of local search results. Ultimately helping you get discovered by more customers in your area, stand out from competitors, and generate more leads, sales, and even in-store foot traffic for your business.
Here are some of the questions this webinar will answer:
• What is Local SEO, and why should you care about it?
• What tactics can help make your local business go from unseen to being found online?
• What methods and tools can you use to create a top-notch "near me" customer experience?
Related Events